Augie's Quest to Cure ALS, a nonprofit committed to changing the experience of thousands living with amyotrophic lateral sclerosis (ALS) by fast-tracking effective treatments and an ultimate cure, returned to San Diego on Friday for the 14th Annual BASH celebration.
Coinciding with the annual International Health, Racquet and Sportsclub Association's (IHRSA) International Tradeshow and Convention, the BASH raised nearly $1.9 million for ALS research through an auction and donations from industry companies and individuals.
At Friday's event, Augie's Nieto's wife Lynne Nieto delivered a moving address to those in attendance at the event, which was held at the San Diego Convention Center. She said that when Augie vowed at the first annual BASH 14 years ago to beat ALS forever, she did not believe it was possible. However, with the strides Augie's Quest has made in recent years, and with the support of the fitness industry, she now has hope that a cure is within reach.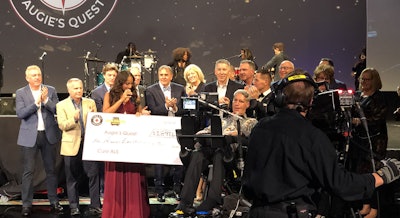 With the support of the fitness industry, Augie's Quest has achieved numerous milestones in recent months. The organization recently surpassed total fundraising of more than $65 million in support of ALS research, and the experimental drug AT-1501 successfully entered Stage 1 Human Clinical Safety Trials late last year.
"The fitness industry is uniquely positioned to join us in our Quest. These tireless supporters take the fight against ALS, and the health of our bodies, very personally." said Augie Nieto, Founder, Augie's Quest to Cure ALS. "ALS is not incurable; it is only underfunded, and with our industry partners we can advance effective treatments and one day find a cure for ALS."