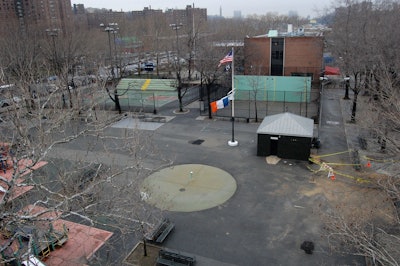 A historic Harlem community basketball court known for nurturing young talent and even some stars is getting a facelift with a little help from the National Basketball Players Association.
The Greg Marius Basketball Court at Holcombe Rucker Park has gotten worn down after decades of play, but the NBAPA is donating $500,000 to help the New York City Parks Department restore the famed court.
"The court had fallen on some tough times. Parks doesn't have the money always to do everything that we want to do. It had been probably 20 years since there had been capital renovation," Christine Dabrow, NYC Parks' chief marketing and developmental officer, told the local CBS affiliate.
The court known as "The Rucker" at West 155th Street and Frederick Douglass Boulevard now has a shiny new scoreboard, court, bleachers, and two brand new hoops — the same used in the NBA.
"Making Rucker Park the only park in the world with arena-style hoops," said Chris Jean, senior director of Grassroots Basketball.
"A lot of talent would come by whether they played in the pros. Kevin Durant, Nate Robinson, Vince Carter, the list goes on and on, players who are known, players who are neighborhood legends," Jean said.