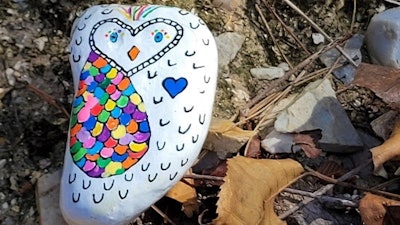 Courtesy of HotSpringsNPS
Two U.S. National Parks are asking visitors to stop hiding painted rocks on park property.
Carlsbad Caverns National Park in New Mexico was first to ask its visitors last week to recreate responsibly by not leaving behind the rocks or other items that visitors bring in.
In a post on Facebook, Carlsbad Caverns rangers shared images of painted rocks they said they found while hiking in Slaughter Canyon.
"Although leaving painted rocks behind for strangers to discover may seem like a fun activity, it is not appropriate in national parks," rangers said on Facebook. "Please minimize your impacts on your public lands by not leaving trash or other items behind."
On Monday, Hot Springs National Park in Arkansas also posted to its social media pages asking visitors to keep the painted rocks out of the park lands.
While the painted rocks are often left behind to inspire positivity to anyone who might find the rock, rangers said painted rocks are problematic for multiple reasons, including that the paint used on the rocks might be toxic to the park wildlife.
"Paint breaks down over time and the particles that are left behind can be harmful to the environment," Hot Springs officials said on Facebook. "Painted rocks are considered graffiti and are illegal to leave in the park."
Parks authorities asked visitors to practice the leave-no-trace principle by taking everything you bring into a natural area with you when you depart.