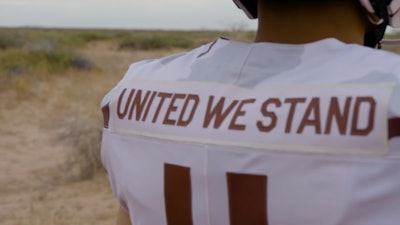 Army West Point Athletics
The Army and Navy football programs have revealed their respective jerseys for the 122nd America's Game.
Army will show off a sleek camouflage combat look as Navy is running a look straight out of "Top Gun," AgainstAllEnemies.com reported. 
This season's game is about remembering and recognizing the military response to 9/11, as the game will take place near Ground Zero in New York City. The Meadowlands in New Jersey — home of the Giants and Jets — will host the game.
The Army is recognizing the soldiers from the U.S. Army Special Forces Command. Immediately after the 9/11 attacks, Special Forces Operational Detachment Alphas from the 5th Special Forces Group deployed from Fort Campbell, Kentucky to take the fight to the Taliban in Afghanistan.
The Army's helmet — designed by Nike — is a light camouflage design. The Black Knights "road" jersey is white with a Task Force Dagger patch on the left shoulder and an American flag on the right. There is an "Army" nameplate on the left and the Latin phrase "De Oppresso Liber", translating to "from an oppressed man, to a free one." On the back, it reads: "United We Stand".
The Navy chose a Naval Aviation-themed uniform, the logo most popular from the 1986 Tom Cruise film, "Top Gun."
America's Game will take place at MetLife Stadium at the Meadowlands Sports Complex on Dec. 11. Kick off is at 3 p.m. EST and will be broadcast on CBS.