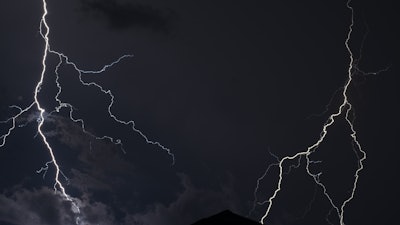 Two people were injured this weekend in Florida when they were struck by lightning as they were leaving a New York Yankees spring training game, authorities said.
The two adults were struck at about 4 p.m. Saturday while walking in the Raymond James Stadium parking lot, WBBH-TV reported.
The Tampa Police Department said a man, estimated to be in his 60s, and a woman, estimated to be in her 20s, were taken to a local hospital in stable condition.
The pair were leaving early from the Yankees and Atlanta Braves game after it ended in the sixth inning because of bad weather.