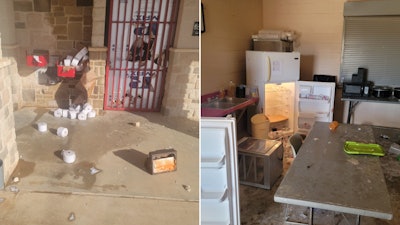 Harker Heights Parks & Recreation
Damage at a Texas park has caused a softball complex and its concessions stand to close this week for cleanup and repairs, officials said.
The Harker Heights Parks and Recreation Department said someone broke into the Community Park Softball Complex on Thursday night.
The department posted pictures of the damage, showing graffiti, damage near the men's restroom door including multiple rolls of toilet paper piled outside the facility. Images inside the concessions area showed a mess, with items strewn about the area and the refrigerators open and emptied.
"The softball complex will be closed this weekend and next week as our parks crews work diligently to clean up and repair the damage," the parks department said on its Facebook page.
Anyone with information is asked to contact the Harker Heights Police Department at 254-953-5400.