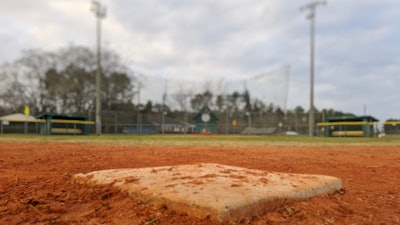 Darrin Moore
The high school baseball players accused of vandalizing a rival baseball field in a Kentucky city after a tournament will not likely be suspended, officials said.
The Lexington Herald-Leader reported that Johnson Central High School leaders are not expected to suspend any baseball players in Friday's state tournament game after speaking with police, principal Justin Arms told the Herald-Leader.
The field was vandalized in late May, when Paintsville Independent High School won the 57th District baseball championship. Johnson County superintendent Thom Cochran previously said there were "JC" signs spray painted. District runner-up medallions that belonged to members of the Johnson Central baseball team were also found on the field. Police are investigating.
"Some things that were being said were proven to be inaccurate by local law officials through their investigation," said Johnson Central Principal Justin Arms. @HLpreps @KHSAA https://t.co/HKdM8LTw4T

— Herald-Leader Sports (@KentuckySports) June 2, 2022
Johnson Central is set to face Campbell County at 8:30 p.m. Friday in the first round of the state tournament at the University of Kentucky's Kentucky Proud Park.
The principal of Johnson Central issued a statement Thursday apologizing to Paintsville High School and sharing new details about the incident, the Herald-Leader reported:
"Anytime you deal with a rivalry such as Johnson Central and Paintsville, emotions run high. Regrettably, with that being said, judgment can get clouded and unfortunate incidents occur. I do want to apologize to Paintsville High School and their baseball program for what transpired. Some accusations were blown way out of proportion…and some things that were being said were proven to be inaccurate by local law officials through their investigation. We are still cooperating with them and support their decisions that they make."
Johnson Central principal Justin Arms said he doesn't condone the students' actions, and he said they "were wrong and should've never been there to begin with." He said some of the damages to the field included "field paint on the dirt, a bench turned upside down, second base pulled out of the sleeve and the medals on the field."
"I do feel that in certain situations with rivalries, it's adults that tend to make things worse than better. I've seen it first hand being on both ends as I am a graduate of Paintsville and currently the principal at Johnson Central," the statement said. "Additionally, I think that so many have been quick to demonize or characterize these students as hardened criminals but they are good kids that made a mistake. However, sometimes you have to mess up before you grow up."
Kentucky High School Athletic Association commissioner Julian Tackett said the vandalism is a local matter for the courts and local police.
"This was done outside the scope of contests and both school administrations will work toward a mutually agreed solution," Tackett said. "The students — if that's who is found to have done this — are not our jurisdiction 24/7. In general, conduct is a local school issue unless it happens during a game or when game officials have jurisdiction."
As runners-up in the district tournament, Johnson Central advanced to the 15th Region tournament, which was eventually won by the Golden Eagles.