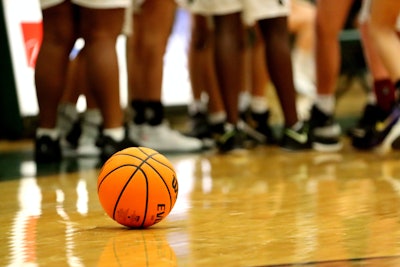 The men's college basketball is an inch larger in circumference and about two ounces heavier than the model design for women's play. Whether that contributed to Duke University's poor first-half shooting in a loss to Sunday at Florida State is open to debate.
Duke coach Kara Lawson, for one, was vocal in her displeasure with an alleged mix-up, as her 16th-ranked Blue Devils made just seven of 34 shots in the first half while playing with a men's basketball, before losing, 70-57.
"Let me be clear: Florida State beat us," Lawson said, as reported by The Associated Press. "They beat us playing with a men's ball in the first half and a women's ball in the second half. But I can't say if we'd have played with a women's ball in the first half and the second half that we would have won. But they can't say that, either."
Lawson said assistant coach Winston Gandy went to the scorer's table at the half to check on the ball when he realized what the problem was. She said the game officials changed the ball to start the second half.
"We have concluded through our investigation that it was a men's ball," Lawson said. "The conference and Florida State is saying that it wasn't."
Lawson said she wanted to appeal the game, but the Atlantic Coast Conference wouldn't allow it.
"To have a game that, at the end of the season, could be the difference between a seed, between a title. My players don't deserve that and neither do their players," Lawson said. "It's a complete failure. And you can figure out who the people I'm talking about that failed the sport and our players and both teams."
Lawson said the ACC has instituted a rule change under which players have to confirm the correct ball during the captains' meeting before the tipoff, the AP reported. "It's very frustrating that [the game] ... was not treated with the utmost respect that players on both teams deserve," she said.
Duke shot the women's ball only marginally better in the second half, going 12 for 38 from the floor. Florida State made 10 of its 30 shots in the first two quarters and 14 of 31 in the second half.
"This would never happen in a men's game. This would never happen," she said. "It's embarrassing for our sport."
It has happened to women in the past, but in a sort of self-inflicted sense, according to the AP. The College of Charleston played home games and practiced with men's balls for most of its 2017-18 season until realizing the error.