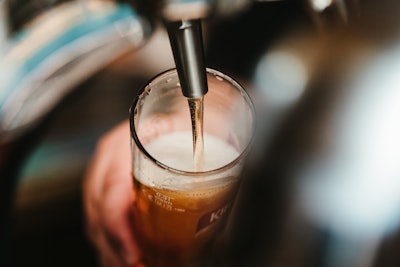 Bence Boros, Unsplash
Sports fans attending University of Kentucky games at Rupp Arena or Kroger Field this fall will now be able to buy alcohol.
University officials announced Friday that after researching other universities' experiences selling alcohol at games, as well as piloting the sale of alcohol during this year's baseball season, it will start serving alcohol at the upcoming football and basketball seasons, WHAS-TV reported.
The university said a ton of research and other universities experiences with alcohol sales factored into the decision. https://t.co/SFes8CBcgc

— WHAS11 News (@WHAS11) June 16, 2023
"We watched the experience at KPP, to see how that was managed and our fans were awesome, they were great," Mitch Bernard, UK athletic director, said. "We had a lot of people settled in and had a hot dog and something to drink and enjoyed some high quality baseball for a good long time."
For years, the Southeastern Conference didn't allow alcohol sales at sporting events. In 2019, the SEC changed its rule to allow each school choose whether or not it wanted to sell alcohol at athletic events, but the University of Kentucky waited to research the issue.
The first Wildcats home football game is against Ball State on Sept. 2.