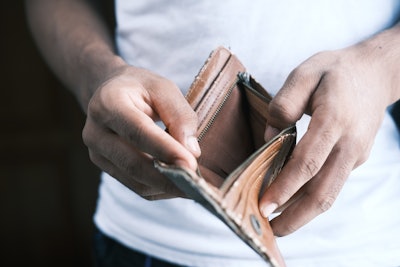 Towfiqu Barbhuiya, Unsplash
Ohio has tapped the brakes on the concept of a completely cashless society with a new law mandating that high schools in the state allow for cash transactions at their sporting events.
"We see a lot of big bills, especially for Friday night games," Eric Holland, athletic director at Symmes Valley High School in Willow Wood, told NBC affiliate WSAZ in Huntington, W. Va. "They'll cash their checks, bring a big bill, break it at admission and then use the smaller bills at concession, which is great for the whole school."
Holland is pleased to hear of the new law.
"We're a public school, so we want to involve everybody and get them out to the games," he said.
In recent years, the Ohio High School Athletic Association has gone cashless, requiring fans to purchase tickets to OHSAA postseason events online to be scanned at the gate for admission. This has caused some frustration for administrators and coaches who would like to allow for cash payments, WSAZ reported.
"For a smaller place like us, we've got to have the cash option," said Oak Hill head football Coach Tyler Kratzenberg. "Not everybody is up to the technology, the card, your Apple wallets. It definitely drives away some attendance."
Connectivity issues present another potential hurdle, as Symmes Valley has discovered.
"Our gate workers will try to help them, but if the internet is a problem, then you're looking at somebody's grandma or grandpa and saying they can't come in to watch their grandson or granddaughter play a ballgame," Holland said.
The law will take effect in 2024, and the OHSAA, which is a non-for-profit organization, will have to decide how it wants to move forward with ticket sales, according to WSAZ's Joseph Payton.