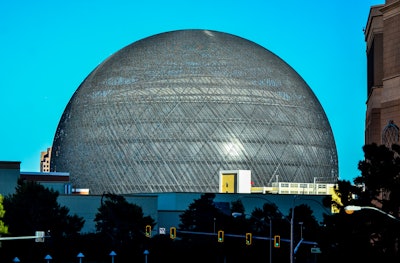 Tomás Del Coro, Creative Commons
The $2.3 billion Sphere in Las Vegas reported nearly $100 million in losses for the fiscal quarter ending Sept. 30, Sphere Entertainment Co. said last week. The 18,600-seat Sphere opened Sept. 29.
In addition to the $98.4 million loss, the venue's chief financial officer Gautam Ranji has resigned, the Las Vegas Sun reported.
Ranji's exit was "not a result of any disagreement with the company's independent auditors or any member of management on any matter of accounting principles or practices, financial statement disclosure or internal controls," the company said in a Securities and Exchange Commission filing.
Revenue for the quarter included $4.1 million in event revenue — two sold out U2 shows — and $2.6 million from suite licensing and advertising on the Sphere exosphere, its massive exterior screen.
Ranji will be replaced on an interim basis by Greg Brunner, the company's senior vice president.
Brand campaigns on the exosphere have included the promotion of YouTube's NFL Sunday Ticket and campaigns for other global brands, the company noted in the filing. This week will include a multiday takeover of the Sphere for the inaugural Las Vegas Grand Prix, Sphere officials said.
"We are building positive momentum across Sphere and remain confident that we are well positioned to drive long-term value for shareholders," Dolan said.