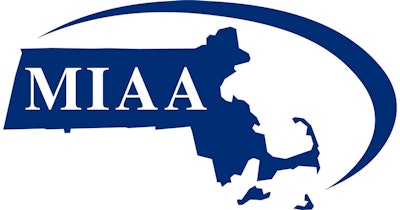 The new head of the Massachusetts Interscholastic Athletic Association is promising change after learning about at least one case of racist and homophobic misconduct by a high school team.
Bob Baldwin, the new executive director of the MIAA, said he was shocked when he learned this week about the alleged violent racist and homophobic misconduct by members of the 2019-20 Danvers boys' hockey team.
In an interview with the Boston Globe, Baldwin said he's ready to take action to promote civility and the safety of student-athletes.
The Danvers case was shocking and widely-reported after a hockey player told police he was abused by his all-white teammates when he refused to shout a racial epithet. The player also said he was once stripped naked in the dark and touch inappropriately.
"I know this is a real bold statement, but we need to intervene immediately," Baldwin said. "I've lived by a quote someone taught me: 'You can't wait another day in the life of a child.' "
Baldwin assumes his new role as allegations of racist conduct have popped up just this year at several high school competitions across the state, including one incident that saw Duxbury High School's football team using Holocaust-related language to call plays during games.
Baldwin said he was also stunned to learn that adults who attended a Franklin School Committee had heckled a gay student who was trying to address the board.
"It's crazy," he said. "We had this grandiose idea that we were coming back to something that was [similar to life before the pandemic]. But, no, there is a lot of trauma that took place somewhere along the way, and students have watched the behaviors of adults in the world we live in, and their behaviors reflect that. We need to somehow step in and fix it."
Baldwin said he is set to hold leaders in the high school sports community accountable, but he doesn't like the idea of a punitive association.
"It's like turning an aircraft carrier around a little bit," he said, "but I'd like to make the MIAA more supportive and service-oriented to our members and not so regulatory."
As a former superintendent, principal, and coach , Baldwin wrote in to MIAA members that he is "highly reluctant to burden schools and districts with yet another layer of bureaucracy and compliance, especially when they are struggling through such difficult circumstances in their communities."