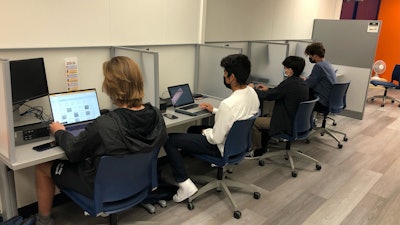 With grants from the NCAA Accelerating Academic Success Program, Cal State Fullerton's DEGREE program is helping to ensure student-athletes receive the academic support they need to earn their degrees.
"We used to have a study hall where student-athletes would clock in four to six hours a week for study time," said Allyson Kelly, interim director of athletics academic services at Cal State Fullerton. "They didn't always utilize the tutoring services, but we would still monitor them to ensure they did homework. Students under a 2.5 GPA would also meet with an academic counselor once a week. Over time, we began to see this was not very effective."
In 2017, the university piloted the DEGREE program, short for Division I, Eligibility, Graduation, Retention, Engage and Empower. The comprehensive academic support program targets student-athletes with a cumulative GPA of less than 2.5 and others enrolled in support programs. Through the program, student-athletes work closely with a coordinator, mentors and tutors.
Cal State Fullerton has been able to implement DEGREE full time with assistance from two AASP grants — a $138,590 grant awarded in 2018 and distributed over three years and a $100,00 grant last summer. The school was able to hire coordinators who are solely dedicated to running the program, and it renovated the athletics study space. Additionally, it is replacing outdated computers and adding technology.
Since DEGREE's implementation, grade-point averages have improved noticeably at Cal State Fullerton, with the total athletics GPA hovering around 2.8 each semester before DEGREE and rising to 2.9 or higher with the new program. Student-athletes now come to study at assigned times rather than whenever they want.
Before the program was started, Kelly said, there were issues with students following through on homework assignments and integrating new study habits. Through DEGREE, however, that pattern has reversed. One track student-athlete now comes in every morning after weights to study and work before the DEGREE mentors arrive, Kelly said. Before DEGREE, it was a struggle for him to do his classwork.
"He's now getting in here on his own, putting extra time in and just getting it done," Kelly said. "I've seen that academic confidence built in a lot of our student-athletes because (DEGREE) is a different approach. It's not punitive."
Cal State Fullerton is one of dozens of schools that have benefited from the NCAA Accelerating Academic Success Program. Established in 2012, AASP assists low-resource Division I schools in developing programs and systems to increase graduation rates and ensure academic success. The program also provides grant support for eligible schools and student-athletes as they work to meet the NCAA's academic standards.
Cal State Fullerton's athletics department has renovated its athletics study space with funding from the NCAA's Accelerating Academic Success Program. Outdated computers are in the process of being replaced, and technology is being added.
"The AASP grant program is one of the great, often-overlooked opportunities the Association provides to equip low-resource institutions better to prepare student-athletes to succeed in the classroom," said DeeDee Merritt, NCAA director of leadership development.
To be considered for a grant, schools must be classified as low resource. If the classification is met, schools may begin the application, detailing how they intend to use the requested funds. Schools must be able to match a percentage of the funds they're requesting with their own contributions; this requirement helps keep the program financially sustainable and schools wholly committed throughout the process.
The AASP selection committee decides which schools receive grants and oversees midyear and end-of-year grant renewal meetings with schools. Once selected, AASP schools are assigned a liaison.
Cal State Fullerton's goals for its AASP grants included more academic support for underserved, first-generation students. More than anything, Kelly said, the school wanted to make sure its students were getting organizational and planning skills and that they had space where they felt like they belonged.
"The most rewarding part for me was to be seeing an entire institution, not just an athletic department, be committed to the success of their student-athletes," said Merritt, who serves as Cal State Fullerton's AASP liaison. "I was so impressed with the level of care they had for student-athletes and their desire to want to get it right. They want DEGREE to be successful while serving the student-athletes in the best way possible."