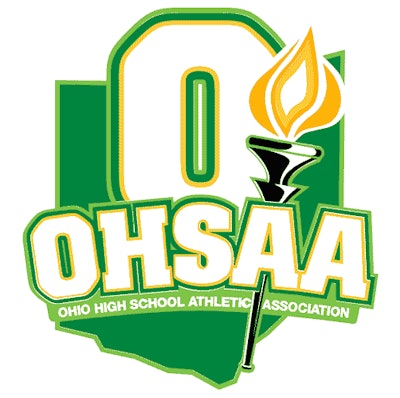 The Ohio High School Athletic Association announced Tuesday morning that a majority of the member school principals have voted against name, image and likeness opportunities for the state's prep athletes.
As reported by the Cincinnati Inquirer, the proposal would have permitted student-athletes to sign endorsement agreements so long as their teams, schools and/or the OHSAA were not being represented within those endorsements and provided there were no endorsements with companies that do not support the mission of education-based athletics.
Prep players would have been able to sell digital images and T-shirts, hold camps or be paid to simply show up somewhere based on their athletic achievements. Athletes would not have been able to use the school or OHSAA logo and there would be no promotion of gambling, casinos, drug, tobacco or alcohol use. All compensated name, image and likeness activity would have to be disclosed to a designated person at each member school to check compliance.
Out of 792 member schools of the 817 voting, the measure failed 538-254. So, 68 percent of OHSAA member schools said no, according to the Inquirer. There were 21 abstentions.
By rejecting the proposal, Ohio's athletes remain unable sign endorsement deals without losing their amateur status.
"Every year, the referendum voting process shows that our member schools have a voice in this democratic process," OHSAA executive director Doug Ute said. "Our office was very pleased with the discussion and insights our schools expressed this spring as we met with them about each of the 14 proposals. If NIL is going to enter the Ohio interscholastic landscape, we want the schools to be the ones to make that determination. Whatever we do moving forward, it will include discussion on this issue with our school administrators, Board of Directors, staff and leaders of other state high school athletic associations."
Currently, nine states permit high school name, image and likeness deals: Alaska, California, Kansas, Louisiana, Maine, Nebraska, New Jersey, New York, and Utah.
Bailey Johnson of The Columbus Dispatch wrote, "My two cents: I believe that NIL at the high school level will eventually get to a point where all states have to allow it, much like how it transitioned at the college level from an individual-state issue to a national one, but I think that's a matter of years, not months. This landscape is ever-changing, and as more high school athletes gain notoriety on social media, I think the pressure to allow NIL will increase. Opinions will always be split, and it's a fascinating story to follow."