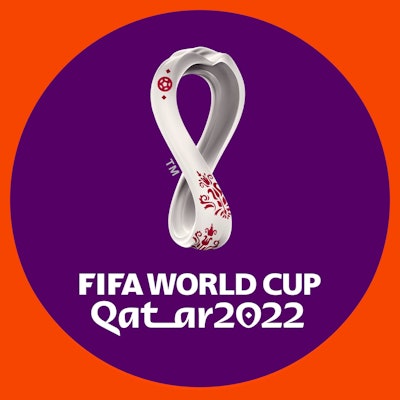 Plans for captains of seven European teams to wear anti-discrimination armbands at the 2022 World Cup in Qatar have been abandoned following threats of sanctions from FIFA.
FIFA has threatened the players with "sporting sanctions," the teams said in a joint statement Monday, as reported by Yahoo and CNN.
England, the Netherlands, Belgium, Denmark, Germany, Switzerland and Wales were set to participate in the "OneLove" campaign to promote inclusion and oppose discrimination.
But those countries' associations said in the statement that the armband – which features a striped heart in different colors to represent all heritages, backgrounds, genders and sexual identities – would not be worn.
England, Wales and others had said months ago — and as recently as Sunday, CNN reports — that their captains would wear the "One Love" armbands, which are part of a broader campaign originally launched by the Dutch soccer federation (KNBV) against discrimination. "The colors in the heart of the logo represent everyone's pride in their own origin, color, gender identity and sexual orientation," the KNBV said in September.
FIFA didn't respond to the European federations until this past weekend, on the eve of the tournament. And when it did, it was "very clear that it will impose sporting sanctions if our captains wear the armbands on the field of play," the European nations, which also include Belgium, Denmark, Germany and Switzerland, said in their statement.
"We were prepared to pay fines that would normally apply to breaches of kit regulations and had a strong commitment to wearing the armband," the statement continued. "However, we cannot put our players in the situation where they might be booked or even forced to leave the field of play."
The seven nations, plus France and two others not at the World Cup, adopted the campaign ahead of the 2022 tournament because of Qatari laws that restrict, among other things, LGBTQ rights. Qatar's penal code punishes gay sex and "leading, instigating, or seducing a male to commit sodomy or dissipation" with multiple years in prison, CNN reported.
In the buildup to the World Cup, Qatar has come under criticism for its stance on LGBTQ rights, CNN reported.
A report from Human Rights Watch, published last month, documented cases as recently as September of Qatari security forces arbitrarily arresting LGBT people and subjecting them to "ill-treatment in detention."
However, the country has insisted that "everyone is welcome" at the tournament, adding in a statement to CNN this month that "our track record has shown that we have warmly welcomed all people regardless of background."
A statement sent to CNN last week on behalf of the Supreme Committee for Delivery & Legacy (SC) which, since its formation in 2011, has been responsible for overseeing the infrastructure projects and planning for the World Cup, said it was committed to "an inclusive and discriminatory-free" World Cup, pointing to the fact that the country had, it said, hosted hundreds of international and regional sporting events since being awarded the World Cup in 2010.