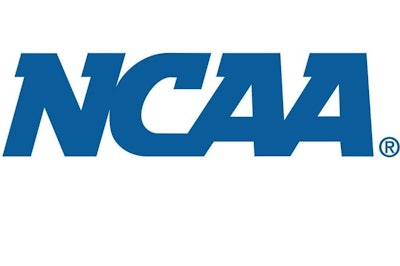 Conviction. Vindication. Determination.
Those are just some of the words that describe the members of the Black 14, a group of Black student-athletes who were kicked off the Wyoming football team 53 years ago for raising the possibility of showing solidarity with a campus protest.
Their lives were altered on the spot before they could ask permission to wear black armbands to show their dissatisfaction with the Church of Jesus Christ of Latter-day Saints policy of not allowing Black people to be high priests or enter a temple.
Wyoming was undefeated in October 1969 heading into a game against Brigham Young University, which is owned and operated by the Church of Jesus Christ of Latter-day Saints, when the 14 players found themselves without athletics scholarships and having to figure out what to do next.
Now five decades later, the Black 14 have been honored by the school that sent them into an uncertain future and have been named the recipients of a 2023 NCAA Inspiration Award, which will be presented to the surviving members of the group Jan. 11 at the NCAA Convention in San Antonio.
The NCAA Inspiration Award is presented to a coach or administrator currently associated with intercollegiate athletics or to a current or former varsity letter winner at an NCAA school. It honors those used perseverance, dedication and determination to overcome a life-altering event and now serve as a role model, giving hope and inspiration to others.
Wyoming, which nominated the Black 14 for the NCAA Inspiration Award, and Brigham Young both honored the group during the 2019 football season to apologize for the entire incident.
"That's when we got to the 50-year anniversary of all this, and it seems people have become more interested in what happened," said Tony McGee, a defensive lineman and a member of the Black 14. "This is a great honor because our NCAA careers were interrupted, and some were ended when we were kicked off the team."
The Black 14:
Jay Berry — Became a sports anchor for television stations.
Tony Gibson — Worked nearly 38 years as a lineman for a Massachusetts power company.
John Griffin — Became a leader in corporate America, including the Brand Co. and United Airlines.
Lionel Grimes — Became an employment diversity executive for Ford Motor Company.
Mel Hamilton — Became the first Black principal in Wyoming.
Roy Hill — Became a physical education teacher in Denver.
Guillermo Hysaw — Became vice president of Lexus Japan.
Jim Isaac — Graduated from Dakota Wesleyan and became a professor. He died in 1976.
Earl Lee — Became a teacher, coach and principal in Maryland. He died in 2013.
Tony McGee — Played 14 years in the NFL, including winning Super Bowl XVII with Washington. Television talk show host for more than three decades.
Don Meadows — Graduated from Wyoming after returning to the team and was an all-conference performer. He died in 2009.
Ivie Moore — Became a floor contractor in his native Arkansas.
Joe Williams — Played four years in the NFL, including wining Super Bowl VI with Dallas.
Ted Williams — Worked nearly four decades as a foreman at an Illinois manufacturing company.
Seeds of a protest
In October 1969, the Wyoming football team was preparing for its home game against Brigham Young. Leading up to the game, the Black Student Alliance on Wyoming's campus was organizing a protest about the discriminatory Church of Jesus Christ of Latter-day Saints policy.
The 1960s were a time of standing up for equality and civil rights, denouncing the Vietnam War, dealing with the assassinations of President John Kennedy and the Rev. Martin Luther King Jr., and challenging the societal norms that remained unchanged for decades. During these turbulent times, 14 Black student-athletes from around the country were curious about what the Black Student Alliance had in mind.
The players decided against participating in a protest but decided the best statement would be to wear black armbands during the game the next day. However, they wanted to inform head coach Lloyd Eaton about their intentions.
They wore the armbands as they waited for Eaton to meet with them in his office.
"We didn't have the intention of going over and giving him an ultimatum," said Hamilton, who played right guard. "We didn't discuss what we would do beforehand if he said no. But we never had any intentions of not playing the game the next day."
According to the players, when Eaton stepped out of his office, he immediately informed them they were no longer members of the team. He then told them to go with him into the field house, where he berated them.
"He told us that half of us didn't know who our fathers were," McGee said. "He said, 'I picked you up, McGee, off the streets of Battle Creek, Michigan, picking up cigarette butts.' I didn't even smoke. He said something about going to Grambling, too. The final thing he said was, 'You can go back to your hometown and get on relief,' and then he said, 'Colored relief.'"
Being the subjects of vitriol was stunning since the players were key contributors to the team's success. The Cowboys were 10-1 in both 1966 and 1967 and made appearances in the Sun and Sugar bowls. They were also coming off a 7-3 season in 1968 and were 4-0 at the time they were dismissed from the team.
Wyoming won the Brigham Young game and the next one after that before dropping its final four games of the season. The Cowboys went 1-9 the next season, and the school removed Eaton as coach.
"That decision ruined the football program for almost 10 years," said Griffin, who was a standout receiver. "If you look at any blue-chip program, the way you survive is to attract blue-chip players. If I had the wherewithal as a 21-year-old, I would have said that you can spit all the venom you want, but I'll see you in 40 years and then we'll talk."
The 14 student-athletes tried to appeal to administrators and members of the coaching staff. But the decision stood. Then it was up to each of the players to figure out his future. Griffin was one of the five who remained on campus, while others sought other options.
"I didn't have anywhere to go, and I was concerned that if I transferred, how many of my credits would be accepted at another school," said Griffin, who said a couple of faculty members helped him obtain scholarship money. "Each of us had to figure things out."
Hamilton, who served in the U.S. Army before going to college, stayed at Wyoming, too, using the GI Bill. Hamilton served his country overseas, guarding nuclear weapons in Turkey. It was by pure chance that he wasn't sent to the Vietnam War.
"We were standing in a line, and they counted off to four," Hamilton remembered. "Those four guys got sent to Vietnam, and then they started another count with me and the next group of us were sent to Turkey. It didn't matter what you were trained to do."
Eventually, Griffin and Meadows were allowed to return to play football again at Wyoming.
"We had to make a presentation to the team," said Griffin, who graduated with the degree in education. "I told them, if you want me as a football player, you got me. But if you want me to change who I am in life, that wasn't going to happen. Then I walked out."
The Wyoming players were voted back on by the rest of the team.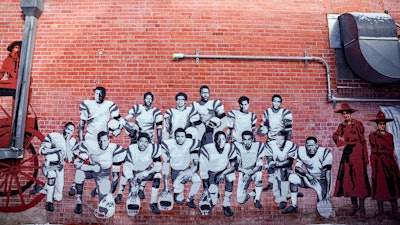 The aftermath
Hamilton remained in Wyoming after graduating and eventually became the first Black principal in the state's history.
His son Malik, who wasn't born when his father was dismissed from the Wyoming football team, converted from Catholicism to being a member of the Church of Jesus Christ of Latter-day Saints, where he serves as a high priest.
"The way things work out is unreal," Hamilton said. "I stood in front of the Mormon church in Casper, Wyoming, with signs protesting. Then 10 years later, they invited me to talk with them."
One partnership that has developed through the years is the Black 14 and the Church of Jesus Christ of Latter-day Saints. They have combined to deliver food to those who have not been fortunate in life. To date, Griffin said the initiative has delivered 760,000 pounds of food, with plans for the total to reach 1.4 million pounds in the next three years.
"This is vindication in the way we turned a tragedy into philanthropy," Griffin said.
McGee pointed out the Black 14 ironically were banned from the football team for a protest they never had a chance to participate in.
"We were punished because we were going to ask if it would be OK, but we never got the chance to ask," said McGee, who said he received death threats before he left to attend Bishop College in Texas. "They said we broke rules, but when people started looking into it, there weren't any rules about this. It wasn't fair to us."
While McGee transferred and was named a Black College All-American at Bishop, the Wyoming incident followed him into the NFL.
He was drafted by the Chicago Bears in the third round in 1971 but was told the Los Angeles Rams were going to select him in the first round. He was told that it didn't happen because of concerns the Rams had about why he was kicked off the team at Wyoming.
Having to deal with the ramifications of a volatile situation has been a character-strengthening experience for the Black 14.
"We're in our mid-70s, and it shows how resilient we are," Griffin said. "None of us knew that then, but we all see where we are now. We prevailed. We fought a good fight for 53 years, and we came out on top."