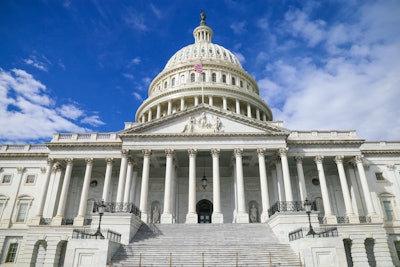 A new piece of federal legislation introduced Tuesday seeks to hold universities accountable for Title IX compliance by empowering the Secretary of Education to fine schools for their failures.
As reported by Sportico, the Democrat-backed bill aims to address what has become the systemic disregard of Title IX's mandate for women to receive athletic resources and opportunities proportionate to their representation within a student body. It would add language to federal Title IX laws that would empower the Secretary of Education to issue fines for schools whose athletic departments are out of gender-equity compliance.
The so-called Fair Play for Women Act is being co-sponsored by Sen. Chris Murphy (D-Conn.), and Reps. Alma Adams (D-N.C.), Lori Trahan (D-Mass.) and Suzanne Bonamici (D-Ore.).
"It's no secret there's still a huge gap in resources and opportunities between women's sports and men's sports — it's a Title IX violation hiding in plain site," Murphy said in a statement, as reported by Sportico.
According to Sportico, Title IX allows for the federal government to discontinue providing money to schools that are habitually noncompliant, but no such school has ever faced that penalty.
To date, the most effective catalysts of change have been lawsuits brought by individuals or groups of athletes against schools, reported Sportico, which added the new bill would seek to provide a private right of action for a school or athlete to sue an athletic department in either state or federal court.
In addition to addressing noncompliant college athletic departments, the legislation would also expand reporting requirements for K-12 schools, Sportico reported.
Though the bill is unlikely to pass in the current Congress, a spokesperson for Murphy said the plan is to reintroduce it next year.