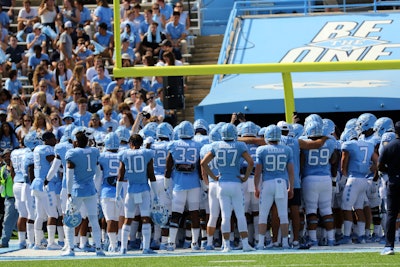 The NCAA, the Pac-12 Conference and the University of Southern California on Thursday forcefully pushed back against a complaint from the National Labor Relations Board's Los Angeles office that alleges they have unlawfully misclassified college athletes.
As reported by USA Today, the complaint — which specifically applies to athletes in football, men's basketball and women's basketball — misclassifies them as "student-athletes" rather than employees.
The three entities offered similar reasoning Thursday concerning what they contend are legal limits on the National Labor Relations Board's (NLRB's) reach in this matter. Lawyers for USC wrote that Congressional action to change the National Labor Relations Act would be required "to support the momentous expansion in the scope" of the law that would occur if the NLRB were to decide it has jurisdiction over college sports.
Related: Labor Relations Board Seeks Employee Status for Student-Athletes
"An effort to unionize football players at Northwestern University ended in August 2015, when the NLRB said that because the board has no jurisdiction over public schools, addressing the Northwestern effort would run counter to the National Labor Relations Act's charge that the board create stable and predictable labor environments in various industries," wrote Steve Berkowitz of USA Today. "The NCAA argued Thursday the Northwestern decision prevents the NLRB from 'relitigating the issue of jurisdiction … because there have been no changed circumstances in the law sufficient to warrant the Board's departure from' that decision."
The complaint in this case aims to resolve that issue by alleging that the NCAA, the Pac-12 and USC are joint employers of the athletes. If the NCAA and the Pac-12 are determined to be joint employers with USC, because the NCAA and the Pac-12 include public schools, the case could apply to athletes at both public and private schools. One significant aspect of this determination will be an assessment of the degree to which the three entities subject athletes to their control — for example, through directives laid out in athlete handbooks.
USC contends that its handbook language doesn't amount to mandatory rules, as alleged in the complaint. The school also argued that this case puts First Amendment rights at stake.
" … enforcement of any Order from the Board to prohibit USC from using the phrase 'student-athletes' and/or to compel USC to use some other words to describe its students who are members of its intercollegiate sports teams, including football or women's or men's basketball, would amount to compelled governmental speech in violation of the First Amendment," read USC's response, as reported by USA Today.
The case is set for a hearing before an administrative law judge, beginning Nov. 7.