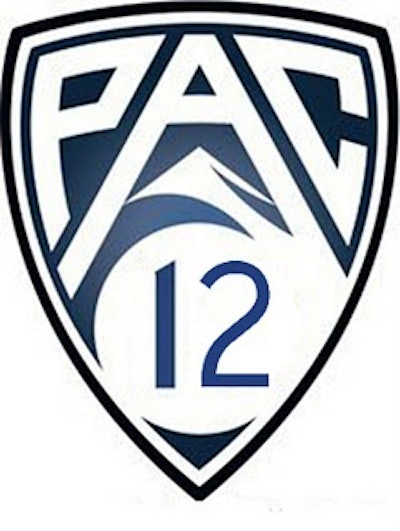 As the strongest indication yet that the Pac-12 Conference's days may be numbered, the Big Ten announced Friday that Oregon and Washington would be joining its ranks next August, while the Big 12 agreed to annex Arizona, Arizona State and Utah.
The Pac-12, which had already lost UCLA, USC and Colorado before Friday's five member defections, is now down to four schools and facing extinction because it hasn't secured a competitive media rights agreement relative to rival leagues.
"Today's news is incredibly disappointing for student-athletes, fans, alumni and staff of the Pac-12 who cherish the over 100-year history, tradition and rivalries of the Conference of Champions," the conference said in a statement, as reported by The Associated Press. "We remain focused on securing the best possible future for each of our member universities."
According to the AP's Ralph D. Russo, Arizona's exit to the Big-12 was approved Thursday night, and by the time the departures to the Big Ten of Oregon and Washington were apparent the following day, Arizona State and Utah "didn't have much choice but to jump, too."
The Big 12 will now be a 16-team league spanning from Arizona to Florida, beginning next fall.
"We are thrilled to welcome Arizona, Arizona State and Utah to the Big 12," said Big 12 commissioner Brett Yormark, as reported by the AP. "The Conference is gaining three premier institutions both academically and athletically, and the entire Big 12 looks forward to working alongside their presidents, athletic directors, student-athletes and administrators."
The Big Ten will boast the nation's first 18-team conference, with coast-to-coast membership coverage.
"The Big Ten is a thriving conference with strong athletic and academic traditions, and we are excited and confident about competing at the highest level on a national stage," Washington president Ana Mari Cauce said.
"We are disappointed with the recent decisions by some of our Pac-12 peers," Washington State president Kirk Schulz and athletic director Pat Chun said in a joint statement Friday, as reported by the AP. "While we had hoped that our membership would remain together, this outcome was always a possibility, and we have been working diligently to determine what is next for Washington State athletics. We've prepared for numerous scenarios, including our current situation."
The Pac-12, founded more than a hundred years ago and proudly marketed through various iterations as the "Conference of Champions," is now down to four schools — Cal, Stanford, Washington State and Oregon State.
Media dollars dictated the league's all-but-inevitable downfall.
"While the USC and UCLA decisions to leave started the Pac-12's demise, last fall's move by the Big 12 and Yormark to get an early extension of its media rights deals with ESPN and Fox was key," Russo wrote. "That left a thin market for [Pac-12 commissioner George] Kliavkoff and the Pac-12, which ended up with the streaming-heavy proposal with Apple that would have left its schools lagging behind a paywall and other Power Five conferences in revenue."