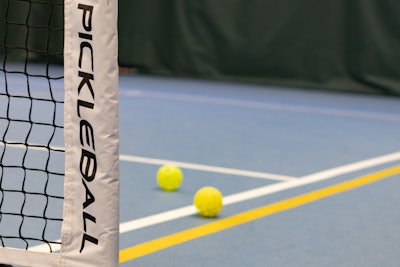 Aleksander Saks, Unsplash
USA Pickleball, the national governing body for the sport of pickleball in the U.S., announced Monday the launch of its "Quiet Category" for pickleball products, a new initiative that aims to reduce the sport's sound output during recreational play.
The Quiet Category is aimed at recognizing pickleball products that reduce acoustic output during play without negatively impacting performance. In addition to this effort, USA Pickleball is expanding its Facilities Development program to further support noise-reduction solutions for potentially sound-sensitive pickleball venues.
"We are excited to introduce the new Quiet Category for pickleball equipment and related initiatives as a pivotal step in the evolution of pickleball," Mike Nealy, USA Pickleball CEO, said in a statement. "With the sport's growth, addressing noise concerns is essential to maintain a positive relationship between residential communities and facility operators. We are continuing to develop guidance and resources that offer short- and long-term solutions that continue to enhance the sport. By working together with manufacturers and the entire industry, we can develop quieter options that benefit everyone."
USA Pickleball's Quiet Category for equipment will promote products that deliver essentially 50 percent or less of the acoustic footprint of equipment commonly sourced and used in community parks. Over the past 15 months, USA Pickleball has researched and studied the acoustic output within the sport, making considerable investments to lead the application of resulting data. Collaborating with acoustic experts, USA Pickleball has gained an understanding and ability to address the challenges posed by noise pollution in pickleball facilities in sensitive locations.
The Quiet Category will include specific guidance to manufacturers with thresholds that significantly reduce acoustic propagation during play. USA Pickleball will provide test fixture requirements and procedures to manufacturers during development, specification relief to enable manufacturers to creatively use new materials and configurations while preserving the nature of the game, and ongoing collaboration and guidance to several global brands in sporting goods. With the mission to encourage manufacturers to prioritize innovation in creating quieter products, the Quiet Category will encompass a wide range of products including paddles, balls, paddle covers, and noise mitigation screens for pickleball courts. USA Pickleball is also launching an incentive program for manufacturers to deliver noise-reduced solutions in the Competition-Certified Category.
To address noise concerns in local residential communities, and enhance the overall experience for players, USA Pickleball will expand its site design, evaluation, and acoustic mitigation services within its Facilities Development program. These services engage key principles throughout the development process, including greenfield builds, court conversions, and expansions, to assess key variables that affect the acoustic propagation.
There have been several breakthroughs in new products that not only provide options for facilities designers, but address concerns of weight, cost, and attenuation levels that meet local ordinances and codes. In addition to identifying target thresholds, USA Pickleball is currently engaged in referrals to new sites for existing solutions through collaborations with stakeholders. Future initiatives include facilitating test installations, conducting uniform lab tests for accurate benchmarking, and integrating solutions when running simulations on facilities in planning/development.
"Due to the unprecedented levels of growth we are seeing in pickleball across the country, communities are now being faced with pressure to provide places to play. This overwhelming demand has driven municipalities and HOAs with limited resources to seek support in meeting these needs," said Carl Schmits, USA Pickleball managing director of Facilities Development and Equipment Standards. "We have spoken with hundreds of facilities and concerned stakeholders over the last 15 months, and gathered considerable data related to this topic. We're now well-equipped and ready to launch this program."
USA Pickleball says it plans to continue to invest in its acoustic research and programs, including advancing the caliber of remote and on-site evaluations, materials guidance to manufacturers, and providing input to municipalities for evolving codes and ordinances.