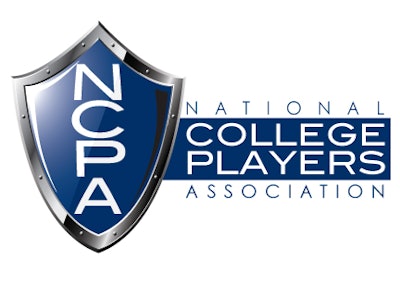 The National College Players Association on Tuesday filed unfair labor practice charges with the National Labor Relations Board (NLRB) against the NCAA office, the Pac-12 Conference and California schools USC and UCLA as single and joint employers of FBS football players and Division I men's and women's basketball players.
The goal, as reported by Sports Illustrated, is to affirm employee status for D-I basketball players and FBS football players.
According to SI's Ross Dellenger, the country's sentiment has started to swing in the favor of players over those in charge — coaches, school administrators and conference officials — in the wake of the Supreme Court's June ruling in the NCAA v. Alston antitrust lawsuit.
From AB: NCAA Loses Latitude on Athlete Compensation
The NCPA's move comes only after new NLRB general counsel Jennifer Abruzzo encouraged it. In a September memo, Abruzzo deemed college athletes employees under the National Labor Relations Act, a message to athletes and athlete advocates to bring forth petitions to unionize, Dellenger reported.
Related: NLRB Attorney Says College Athletes Can Unionize as Employees
The NLRB is the independent agency that enforces U.S. labor law as it relates to collective bargaining. Abruzzo, a Joe Biden presidential appointee, is its lead attorney.
Six years ago, the same board denied Northwestern football players the right to unionize as employees.
"By definition, college athletes are employees under labor law," said NCPA executive director Ramogi Huma. who played football at UCLA. "They are skilled workers in their sport and are paid scholarships. They deserve the rights afforded to them under labor laws like every other American."
The NCPA is the second entity to file a charge with the NLRB since Abruzzo's memo. Michael Hsu, an athlete advocate based in Minnesota who started a players association for both college football and basketball players, submitted a charge of unfair labor practices against the NCAA in November. Hsu says he is awaiting a ruling from the NLRB.
According to SI, most experts do not expect an outcome until at least 18 months after a charge is filed. The NLRB must investigate the filing, requesting information from the charged parties and potentially exercise its subpoena-issuing power. If a complaint is issued, a hearing is scheduled in front of an administrative law judge who ultimately decides athletes' employment status.
The NCPA's filing charged both a private school (USC) and public school (UCLA). The NLRB has jurisdiction over only private employers, but Abruzzo has argued that conferences and the NCAA are joint employers of athletes and that the NLRB's jurisdiction would thus expand to all schools, Gabe Feldman, a sports law professor at Tulane, told SI.
"If we win, it will be applicable across the nation," Huma said.
The movement has its detractors — Pac 12 commissioner George Kliavkoff among them.
"They are students first and athletes second. That is non-negotiable for me," Kliavkoff said. "We get to a place where we talk about professional athletes and it blows up the whole model. Let's take it to the natural conclusion. Talking about professional athletes, then we have a draft. You're telling a kid where to go to college. If they are an employee, do I get the right to fire them?
"The natural conclusion of deeming student-athletes employees is very dangerous. It would also mean less of an investment in other sports that are not profit-generating."