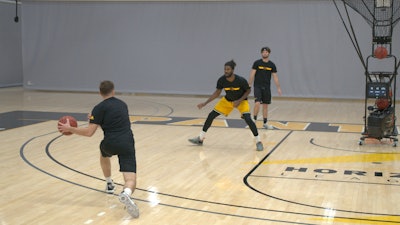 This content was supported by Dr. Dish Basketball. What is sponsored content?
We live in a world where technology is constantly changing and evolving. The right technology can help schools, programs, facilities and individual players be more productive than ever. Basketball is certainly no exception to this growing trend. At Dr. Dish Basketball we've designed some of the most innovative basketball shooting machines equipped with the technology to advance players' games.
More than a Basketball Shooting Machine
Our machines have empowered individual players, and programs and helped them achieve success. We've been privileged to see numerous programs claim state titles, individuals increase their shooting percentages by leaps and bounds, and WNBA/NBA players from veterans to all-stars to champions join our Dr. Dish Family.
With our shooting machines, players are able to shoot 1,500 shots/hour, improve their arc, receive real-time analytics, track and save stats over time, access 200+ built-in workouts and drills, and/or build their own custom drills.
Next Level Analytics
Statistics and metrics provide powerful insights to basketball programs on the player and coach level. Stats show how teams and players are progressing which can increase their confidence and also assist with identifying weaknesses that need to be worked on.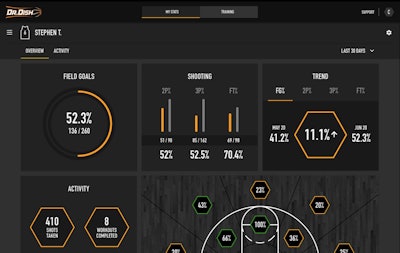 At Dr. Dish Basketball we know how important tracking stats is and how much of a hassle it can be to run practice and record stats simultaneously...that's why we designed our shooting machines to track key statistics and metrics including shot attempts and makes, 2pt, 3pt, and FT percentages, heat maps, and trends to show progress and improvement over time. All statistics can be viewed in our Training Management System on desktop or our Dr. Dish Player mobile app!
We also offer multiplayer mode on our Dr. Dish CT model which allows teammates, siblings, and/or friends to train together while tracking each individual's stats.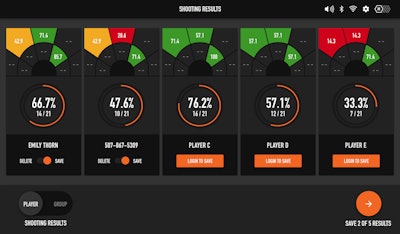 Multiplayer mode provides 3 key benefits to programs:
Enhanced accountability: Coaches and players alike can track shot count and individual heat maps from the same drill. These stats can be simultaneously uploaded to the Dr. Dish Training Management System where players can track true progress and coaches know exactly what each player is doing.
Increased engagement and promote team goals: Players can shoot and track their stats in the same drill. This provides additional camaraderie, cohesiveness, and team engagement as each player is contributing to the overall goal - and will be held accountable at the conclusion of the drill.
Encourage competition: While players will strive to achieve the overall goal, they are now incentivized to be the top shooter within the drill. Can you imagine the friendly competitiveness of 5 players each trying to achieve the best percentage/most makes/best streak at the end of the drill? Teams can also create and access their own leaderboards to make training competitive and let players see how they stack up.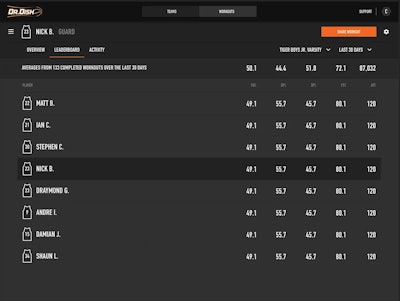 Check out the video below for a full overview of our training management system which holds the key to ultimate player accountability as well as features for creating and assigning custom workouts.
Create and Assign Custom Workouts
Every program and trainer has unique drills and workouts that fit their needs. With our shooting machines coaches and trainers can build their own drills and assign them to teams and players. When creating workouts, Coaches can name their workouts and drills, upload their own instructional videos, select difficulty level, set estimated time to complete, select passing locations, pass tempo, shots attempted or made at each spot, and more!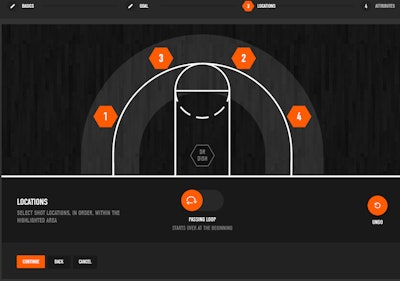 Technology is being utilized in every aspect of our life, and incorporating a Dr. Dish machine into your program and basketball training facility is the best way to improve faster than ever before.
Have questions about how our Dr. Dish Shooting Machines could take your training to the next level? Feel free to contact us to talk to an expert today!