With player safety paramount, the purchasing of football equipment must ensure adequate supply and proper fit of helmets, shoes and everything in between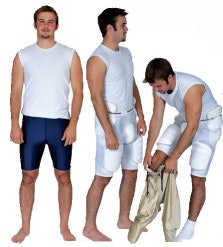 This month, roughly six million tackle football players across the country will begin preparing for a new season. More than a million of them will suit up for varsity high school teams, making tackle football the easy favorite among male sports participants at the prep level. Another 56,000 or so will compete within the NCAA's three divisions, where participation numbers have shown considerable gains over the past two decades. The future of the game? Solid as a pancake block. Participation in Pop Warner Football, the nation's largest organized youth league, jumped 50 percent between 1991 and 2000.
Make no mistake, tackle football - redefined in 1999 by American Sports Data Inc. to represent only those players who wear protective equipment - is alive and well. Protective equipment, one could argue, is clearly a reason the sport thrives today. The modern player is outfitted with, by conservative estimates, $1,200 worth of protective equipment, and those in charge of purchasing everything from helmets and shoes to mouth guards and undergarments are in no small way directly responsible for each player's well-being - even an entire team's success.
The purchasing cycle for football equipment begins as soon as a given season ends. Used items are returned, examined, cleaned and - in the case of helmets - reconditioned. (See "Headgear Overhaul," Jan., p. 14.) Equipment items found to be in good condition are saved for another season or, if several seasons old, are handed down to a junior varsity team or sold. Unsalvageable items are discarded. Only after a thorough inventory is taken can it be determined what equipment holes need to be filled before the following season, and in the case of colleges and some high schools, before spring practices.
By February, most institutions will have solicited bids from three to five equipment suppliers in their area. For fiscally conscious school districts and college administrations, the lowest bid invariably gets the sale, regardless of an equipment manager's personal brand preferences. One equipment manager joining the staff of a new high school in Mesa, Ariz., was asked what type of helmet he wanted for the fledgling football program. Based on a dozen years of experience, he mentioned his favorite make, only to have a rival manufacturer submit a bid roughly $1 lower per helmet on the 200-unit order. End of discussion. Says D.W. Rutledge, a retired football coach and executive vice president-elect of the Texas High School Coaches Association, "In Texas, you'll find schools where a coach doesn't have to do anything but buy what he wants, and you'll find other coaches who have to jump through hoops to get the job done."
Some middle ground exists, however, if a coach or equipment manager can negotiate with a high bidder for service extras, such as free lettering on game jerseys or free weekly jersey repair. "There are some extenuating circumstances that can be thrown in that kind of make the bidding process interesting," says Mary O'Leary, equipment manager at the University of Miami (Ohio). "But if it's just a straight out-and-out bid, basically it's going to be the lowest bidder."
"We save an awful lot of money by bidding," says Dale Strauf, Cornell University's athletic equipment manager for the past 23 years and current president of the Athletic Equipment Managers Association. "It's probably a nightmare for the vendor, and it is a whole lot of work for me, but we stretch our budget dollars further that way."
That's a good thing, because Cornell dresses not only a varsity football team, but a lightweight squad, as well. Strauf estimates that he spends up to $85,000 a year keeping some 200 players adequately equipped. Cornell players are supplied head to toe with helmets, mouth guards, T-shirts, shoulder pads, jerseys, gloves, athletic supporters, girdles with hip and thigh pads, pants with knee pads, ankle braces, socks and shoes. He also keeps in stock specialty items such as eye shields, neck collars and rib pads (for injured players) and neoprene sleeves (for games on synthetic turf). In fact, Strauf carries more stuff than the current roster can use. "I like to carry at least 25 to 35 percent more inventory than we're using. It's dangerous not to," he says, adding that equipment can sometimes break or even be stolen. More important, the overstock allows Cornell's equipment staff to quickly make sizing adjustments as players arrive for training camp in the fall.
While much of the equipment is recycled season to season among returning players whose sizes are known, Strauf aims to outfit each of 35 to 40 incoming freshmen with a brand-new helmet and shoulder pads, which the player will keep throughout his eligibility at Cornell. (After their senior season, players are allowed to purchase their helmet as a souvenir for a nominal fee.) With the passing of national signing day in February, Strauf mails each committed recruit a card requesting head measurements, shoe sizes and other basic information. Players also indicate equipment preferences by, for example, circling their favorite face mask among several models illustrated on the card. By the time they report to camp, freshmen find their lockers already filled with their specified equipment. "We know their heights, their weights and the position they're playing," Strauf says. "Now, are we right on the button with everything we put in their locker? No. We have to make some exchanges as we look at everybody on the team. I don't assume anything."
Since he manages the equipment for Division III Otterbein College in Ohio, Skip Ford faces slightly greater off-season uncertainty than Strauf. Whereas the number of varsity players carried by a Division I college like Cornell varies little from year to year, Ford may outfit anywhere from 90 to 130 players in a given season. His freshman class alone may include 70 players, but he won't know for sure until sometime in May, after all the Division I and II scholarships have been doled out and players are finally willing to commit to Otterbein, which can't offer the tuition perk. Consequently, Ford negotiates flexibility into equipment bids. "I'll ask, 'If we end up with more kids, can I get some of this stuff at the same price?' Most vendors will go along with that," Ford says. "There have been times when on the day of fitting we're short somewhere, and we end up buying things during the first week of camp just to get everyone covered properly."
Because of the wide range of available sizes, the two equipment items with the narrowest margin of purchasing error are helmets and shoes. Most helmet manufacturers today offer some variation of the air-filled padding system, which can be adjusted by adding or releasing air to custom-fit the helmet shell around the player's skull. Even so, some teams may choose to use more than one helmet model from the same manufacturer, or models from separate manufacturers, to best address the different head sizes among players.
As football players ascend through the levels of competition, helmet purchases are based more on the athlete's personal preferences and less on the brand loyalties of the institution. "We want to get whatever that football player wants to wear," says Jon Falk, athletic equipment manager for the University of Michigan. "Helmets are one issue that we're not going to argue with a guy and say, 'You must wear this type of helmet.' All helmets are good. All helmets pass the safety tests."
Michigan players face a mandate, however, regarding the shoes they wear. The school, through a multi-million dollar agreement with Nike, assigns the football program a percentage of those funds to spend on football equipment items Nike can provide - shoes, jerseys, pants, undergarments, socks and gloves. If the football program's needs in these areas exceed its so-called "Nike budget" in a given year, the extra equipment must be purchased out-of-pocket from Nike. Shoe-and-apparel contracts at the college level