Upgrading a facility's sound system requires careful consideration of needs, a commitment to quality and an ear for detail.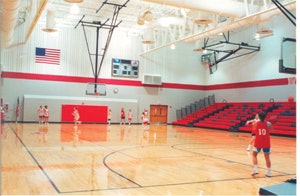 Five years ago, Bill Fry made a routine sales call that he might never forget. While visiting the owner of an Illinois racetrack who was considering an upgrade to his facility's audio system, Fry realized that the owner wasn't completely convinced of the need for change. He figured no loudspeaker was ever going to be loud enough to drown out the roar created by dozens of high-revving engines.
"That stuck with me," says Fry, president of The Music Factory, an audio systems consultant, designer and installer based in Monmouth, Ill. "His attitude is common. He probably didn't have the budget to do it right, and he was trying to talk himself out of the need for a quality system."
Likewise, operators of gymnasiums and outdoor fields who are unfamiliar with the dynamics of sound tend to downplay its importance. And even those who truly appreciate quality acoustics may see their audio-system specifications muffled by budget shortfalls. Today, they're stuck with ineffective audio components and obsolete loudspeakers (or worse, horns) that force game announcers to speak slower than normal to avoid excessive reverb, while system operators pump up the volume to overcompensate for a weak amplifier. As a result, the spectator experience suffers.
"With iPods and advanced car audio systems, everybody's ears are getting better," says Joe DeRosa, director of engineering for Stratford, Conn.-based loudspeaker manufacturer Soundsphere. "My father, who is 84 years old, has a nice stereo in his car that sounds great. So even he's getting accustomed to the idea of quality sound. In high school, kids are used to hearing slammin' bass in their cars, and that's what they want to hear at pep rallies. More facilities are adding subwoofers so they can get that extra octave of bass."
And that extra element of excitement adds another edge to home-court or home-field advantage. Installers and manufacturers cite several examples - from hockey arenas to churches - where a sound system's facelift sparked increased attendance and renewed enthusiasm. If parents, players, fans or staff members don't vocalize their displeasure with sub-par sound, their blasé body language during pre-game introductions, timeouts and halftime performances will probably speak volumes.
"A lot of times, facility operators just don't know where to go," says Dave Johnson, an account executive in Sicklerville, N.J., with Troxell Communications Inc., a Phoenix-based audio-visual distributor. "They know they may have a problem, but they've dealt with it for so long that they try to sweep it under the rug unless somebody brings it to their attention."
Still, the opportunity exists to affordably upgrade any facility's audio output. "Virtually every system that's installed in a public place now can be engineered," says John T. Wiggins, vice president of Community Professional Loudspeakers, a manufacturer in Chester, Pa. "And people in every venue can expect high quality sound, no matter their budget."
This is true, despite the reality that most arenas and gymnasiums are "acoustical nightmares," says Ron Bull, president of KDM Electronics, a Toronto-based speaker manufacturer. "A sound system cannot cure an acoustical problem. A sound system must work within the acoustical environment. If that environment is very poor, the sound system must be installed to address that particular problem as best it can."
To do so, facility operators will need the assistance of either the system's original designer/installer or another manufacturer-recommended designer/installer to create a system upgrade that - as people in the loudspeaker business like to say - "rocks."
"There are all sorts of variables involved in how people go about putting in new audio systems," Johnson says. "It's one of those things that, in most cases, they wait until the last possible moment. So it's not something that they've budgeted for appropriately."
Assuming a budget is available for an audio upgrade - and it may be easier to get funding for an upgrade if a system's shortcomings are obvious - there are many considerations that facility operators should keep in mind.
Make sure you have what you need. Many sound systems fail prematurely because they've been installed improperly. Faulty wiring, mismatched components and inconsistent wattage between amplifier and speakers are common culprits - all of which lead to efforts by the user to overcompensate. "The number-one problem that we face, even more so than intelligibility, is that a system is not loud enough, and people will try to increase the volume beyond what the system is capable of, causing distortion or failure," DeRosa says.
He suggests designing a system based on a facility's extreme-case scenario. For example, administrators at a high school with a powerhouse athletic program won't want to appear stingy with speakers and components that fail to impress throngs of out-of-town fans and state high school association officials. Similarly, a municipal or private facility that boasts an audio system comparable to those at large high schools and small colleges will likely be among the top choices to host amateur athletic tournaments and other events.
Also consider what sports are, or will be, played in a given facility. Lacrosse, a sport that gains in popularity each year at the high school and club levels, is the latest activity to wreak havoc on indoor speakers. Players often use them for target practice, according to Bull, and the damage can be similar to what is seen at facilities that host indoor baseball practices. Speakers need to be built to withstand that type of punishment - or at least be shielded with cage-like protection.
Ice rink officials have an additional responsibility to install speakers that can withstand high humidity. When outdoor temperatures and humidity rise above seasonal norms, an arena's dehumidifier may be taxed to the max. Because mounted speakers often hang where the cold ice-surface air hits the humidity trapped in the ceiling space, they are susceptible to damage. "The speakers will literally drip water," says Bull. "It's not uncommon. But I have rarely seen waterproof speakers put into a spec."
In facilities that use wireless microphones for pep rallies, awards presentations, graduation ceremonies and other events, it's easy to build into the design specifications mikes with digital signal processing. The processing blocks interference from cellular phone towers, which have become an increasingly pesky problem, especially in densely populated areas. Most wireless mikes use UHF frequencies, many of which are already in use by tower operators, making it difficult to find a clean frequency. Microphones with built-in adjustable frequencies automatically locate a clear channel and eliminate feedback and static interference.
Lastly, use commercial-grade equipment. Fry recalls the story of a Chicago-area high school that purchased loudspeakers for its stadium at a consumer-electronics store for $80 each, leaving administrators, fans and players with sore ears. "The cabling on my speakers costs more than $80," he says.
Ask yourself who will use the system, and where. Ease of operation is critical, especially if students or volunteers are using the audio components. Individuals operating commercial audio systems often treat components as they would consumer products like iPods and car stereos - frantically jabbing at buttons and cranking the volume.
"Kids nowadays are pretending they're in the NBA or NHL," Bull says. "When the whistle blows to stop the action, they hit the music play button, and when the ball or puck is back in play, they stop the music. We're finding that a lot of facilities are going into what we call a trunk-rattling mode to shake the building. People are forcing their sound systems into overkill. Building owners need to determine whether they want that particular type of music capability or if they want to limit the system's operators to a more normal listening range."
Placing limitations on who will use the sound system during an event will go a long way toward ensuring its longevity. So will installing audio components and speakers in safe and strategic locations. Components usually get housed in a cabinet in tight spaces like a stadium press box, a small room off the gymnasium or even a concessions stand. Just as the temperature in the room that houses a facility's computer servers is usually colder than the rest of the building, high-power audio equipment requires a cool environment to prevent it from breaking down. Consider installing some type of ventilation system in the rack to avoid overheating.
Speakers, too, must be strategically located. More installers these days recommend that gymnasium speakers be removed from walls and positioned instead on the ceiling directly above a basketball court's sidelines, aimed toward the bleachers to improve intelligibility. Older hockey rinks with center-hung clusters pose an additional challenge to audibility, because higher dasher board glass requirements may now block sound waves. Speakers hung above the blue lines and directed into the stands should solve that problem.
Do your homework. Upgrading an audio system is not like upgrading bleachers or an HVAC unit. It's more of an art form, and it will probably require considerable tweaking before both installer and operator are pleased. "You can't really just design one system and say, `Hey, this is what we use for football fields.' Every football field is going to be different, depending on where the press box is and how the stands are set up," Johnson says. "An installer has to actually see the facility and how it's laid out."
Outdoor facilities require consideration of neighbors' tolerance for stray sound, and indoor venues demand a keen understanding of acoustics and noise dynamics. Some loudspeaker manufacturers recommend specific products based on the number of listeners who will typically hear them, while others use digital technology to allow facility operators to hear what a specific audio system will sound like in a given space.
Manufacturers and installers both recommend that facility operators looking to upgrade visit similar venues in an effort to gauge different degrees of audio quality and determine what they would like in their own facility. They suggest using installers experienced in working on open-grid systems in athletic and recreation applications, and like any other pending contract, they recommend calling those installers' previous clients to assess the quality of their work.
If a venue's sound system is broken or exceptionally poor, a facility operator might want to consider taking the additional step of hiring an acoustical consultant, whose presence usually adds at least another $1,000 to an upgrade's overall price tag.
Acoustical consultants (a directory is available at ncac.com) can assess acoustics and environmental noise pollution, address community noise standards and perform auralizations - computer simulations that allow facility operators to hear a reasonable approximation of how a proposed design will sound by factoring in the acoustic characteristics of an environment's various surfaces (from cement-block walls to hardwood floors).
Although Wiggins says the technology has been available in one form or another since at least 1937, it only recently became practical in mainstream installations - largely because auralization samples can be performed on any laptop computer with a sound card and e-mailed to clients. "These kinds of advancements allow us to provide much greater assurance of exceeding the end user's ultimate expectations," Wiggins says, adding that it eliminates potentially long periods of trial and error in the field. In fact, his firm uses the technology with practically every job.
In 1999, Jack Wrightson, a principal with Dallas-based Wrightson, Johnson, Haddon and Williams, a sound consulting and design firm for professional and college stadiums and arenas, wrote in Facility Manager magazine that auralization is a far-from-perfect representation of the final product. "The big step up," Wrightson wrote, "will be when there is measured data on the performance of walls, roofs, floors and finish materials in regards to how they absorb and reflect sound over a wide range of angles and frequencies. To date, this information is simply not available."
Today, Wrightson says it's still difficult, costly and time consuming to collect that data. But the technology serves its purpose - at least to a point. "It's a legitimate process, which can provide very useful information," he says. "What facility operators should not assume is that what they hear on the computer simulation is a perfectly accurate representation of the final product. What is most useful is being able to listen to the nature of the differences between various design options."
"This is a very controversial subject," Bull contends, stressing that auralization works best as nothing more than a sales tool. "There are no standards as to how the acoustical characteristics of a speaker are gathered. You are looking at so many variables, so how can you do an accurate auralization of how XYZ product is going to perform in a building? To know the noise reduction coefficient factor of every material in a building is almost impossible."
Enhanced sound quality aside, the cost of a superior system - and it's not unheard of for some high schools to spend $30,000 or more on upgraded gear - will likely remain the loudest argument against such improvements. DeRosa says he has seen too many budget-cutting administrators simply reduce the number of loudspeakers in a venue by half to please the powers that be.
"My response to that is, `Why don't you tell the lighting contractor to take half the lights out? Or tell the air conditioning contractor to use a smaller unit?' " he says. "I'm trying to get people to look at sound as a commercial building system; it's not an entertainment system like your audio system at home. A sound-reinforcement system is a necessary part of your facility."