States are taking a fresh look at a decades-old debate.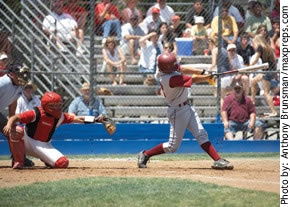 Metal bats have been outlawed, then reinstated; baseball coaches and players outraged, then relieved. The back and forth of the debate over the dangers of non-wood bats tends to follow a similar script in whatever state takes up the issue. But events in New York this spring significantly added to the long-running drama.
The great bat debate took an unexpected turn in April when the New York City Council outlawed aluminum and other metal-alloy bats, citing evidence that they produce harder-hit balls that increase the risk of injury to opposing players, particularly pitchers. Council member James Oddo, who wrote the ordinance, told reporters that he "sensed" wood bats would make for "a better game, a purer game and a safer game."
Then, in May, a newly formed group representing parents and coaches of New York City prep players, USA Baseball, the National High School Baseball Coaches Association and bat manufacturers sued the city of New York to prevent the ban - which was scheduled to take effect in September and would impact more than 9,600 student-athletes on approximately 600 teams in the city's five boroughs. "There is no fair, just or reasonable connection between the bat ordinance and the health and welfare of New York City high school baseball players," members of a coalition known as "Don't Take My Bat Away" claimed in the lawsuit, which was filed in United States District Court for the Southern District of New York.
While the science behind the council's justification for the ban has been proven - and, in fact, all non-wood bats used in high school play must now adhere to specific diameters, lengths, weights and exit speeds - studies of whether metal bats cause more injuries remain inconclusive. "I don't know whether aluminum bats are more dangerous or less dangerous, but I don't think it's the city's business to regulate that," New York Mayor Michael Bloomberg said at a press conference, announcing plans to veto the legislation and suggesting that such regulation be left to interscholastic athletics administrators. "They have the expertise, and they should decide whether these bats are safe or not, and make the decisions for their leagues and their teams."
The mayor's loose grip on the bat controversy notwithstanding (the council overrode his veto), observers consider the New York storyline significant. "This is the first time I've seen that type of legislative involvement with playing rules," says Elliot Hopkins, an assistant director of the National Federation of State High School Associations and editor of the organization's baseball rules book. "The fabric of the sport at our level is changing drastically."
The bat issue seems to pop up regularly, usually in states where a player is gruesomely injured when struck by a ball from a metal bat. For example, when two prep pitchers in Illinois took batted balls to the head in 2005, one of them was knocked into a coma and the other sustained permanent damage to his eye socket.
"When a batted-ball injury happens, it's traumatic and it gets a lot of play in the media. So people think they occur more often than they do," says Anthony Holman, assistant executive director of the Illinois High School Association. "Quite honestly, we played 300,000 baseball games in Illinois two years ago and we had two significant injuries. That's a really low percentage."
The problem with analyzing injury data is that researchers cannot control for all of the possible factors involved, thus making it difficult (if not impossible) to accurately predict injury risk. "The speculation has always been that if we went to wood bats, we would reduce injuries," Hopkins says, acknowledging the work of scientific experts who have studied batted balls for decades. "But no one knows for sure."
The IHSA received $20,000 from the NFHS last spring to oversee a study in which five conferences instructed players to use wood bats in conference play and metal bats in non-conference games. Researchers from Illinois State University's School of Kinesiology and Recreation studied more than 500 games and 20,000 at-bats involving about 50 teams and tracked everything from number of base and extra-base hits, runs scored and game lengths to batted-ball injuries and broken bats. Although preliminary reports were not available at the time of this writing, Holman says most participating teams had broken all 18 wood bats allocated to them after about six weeks. One possible explanation for the rampant breaking of bats is the learning curve inherent to hitting with wood. Holman, who received assurance from college coaches around the state that participation in the study would not hinder players' scholarship opportunities, isn't necessarily hoping the study will help swing opinion one way or the other; he simply wants to advance the discussion.
"We had no preconceived notions," he says. "We just want to have some accurate data from a study that we control, and then be able to discuss the issue more intelligently and honestly with hard facts - as opposed to anecdotal evidence or people's opinions. If the data overwhelmingly points one way, I'm sure there will be some recommendations for change. But we also could go through this whole thing and have nothing happen." Findings of the study will likely be announced later this summer.
Officials at the North Dakota High School Activities Association might also be able to contribute to the discussion. At the suggestion of baseball coaches looking to reduce both injury risks and equipment costs while increasing defensive skills, the NDHSAA abandoned aluminum bats for good. Joel Swanson, head baseball coach at Shanley High School in Fargo, cut his equipment budget by $1,000 this past season after eliminating the bats. Because three-quarters of all North Dakota prep baseball games are played in temperatures of 50 degrees or colder, he says many $300 aluminum bats would dent, crack or snap anyway, making it more cost-effective to purchase less expensive (but also traditionally less durable) wood bats. With two weeks left in the season, Swanson says his team had broken only one wood bat. Moreover, players were fielding the ball better than in previous years because, Swanson contends, they were given more time to react to hits off wood.
Swanson is in the midst of a six-year study of North Dakota's Class A prep teams, similar to the single-season bat study in Illinois, that will compare statistics from three years of using both metal and wood bats with what will eventually be three years of wood-only usage. Factor in the three-year study by USA Baseball's Medical/Safety Committee that concludes this summer - comparing line-drive injuries to pitchers from metal bats and wood bats at the collegiate level - and more definitive data regarding the effects of both types of bats could be on the way.
Back in 2003, when Massachusetts became the first state to ban all non-wood bats from state tournament play, that kind of real-world data wasn't available at the high school level. The Massachusetts Interscholastic Athletic Association's Baseball Committee made its decision largely in response to a prep pitcher left comatose by a line drive to the temple off a metal bat in 2001. The following year, however, state association officials reneged and allowed players in tournament games to use their "bat of choice." "You're just not going to find consensus on this," William Gaine Jr., the MIAA's deputy director, told Athletic Business at the time. (See "Redesignated Hitters," March 2004, p. 26.)
Consensus still seems a long way off, but new information from the Illinois bat study and North Dakota's aluminum-bat ban could be major steps in that direction, according to Hopkins. "If I could shake the hand of every coach in those two states and thank them for doing this, I would," he says. "Nothing else can provide us with this kind of information. As we accumulate more knowledge, there are going to be some common threads that emerge."