Internet streaming offers schools new marketing, fund-raising and educational opportunities.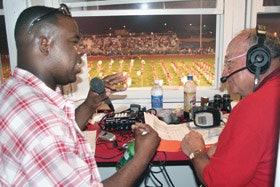 One of the oldest high school sports rivalries in Illinois entered a new era earlier this year when the annual basketball game between East and West Aurora (Ill.) High Schools was broadcast live on the Internet - a one-camera shoot complete with pregame, halftime and postgame interviews and helmed by a professional announcing crew from a local radio station. An estimated 4,500 fans attended the big game, with as many as 1,200 more "tuning in" at any one time on the Internet. The potential audience spanned local fans, out-of-town parents and active-duty alums stationed overseas.
"We made some history," says Mike Chapin, community and alumni relations director for the West Aurora School District. After streaming live audio broadcasts of West Aurora's football games last year, the marquee matchup on the basketball court marked the district's first foray into video webcasting. The slightly grainy but entertaining 128-minute production - archived for free on GoogleTM Video and accessible via sd129.org/athletics - was co-produced by East and West Aurora administrators, and the two schools plan to partner again on Aug. 24 to offer live online video of their teams' annual football clash.
Sporting events in other states have been getting the webcast treatment, too. The Oregon state high school softball championships were streamed live in June using multiple camera angles, the first live video footage of Texas state championship basketball games hit the Web in March, and the New Mexico Activities Association unveiled a video-streaming site last year that archives many athletic events for free access.
Chapin eventually hopes to diversify his district's webcast offerings. "When we first started batting this idea around, some people thought we would have to spend $10,000 for a specialty server," he says, adding that the West Aurora School District contracted with Maryland-based webcast provider All In Broadcasting to oversee all technical aspects. "But this is actually very inexpensive, which is good, because we aren't a wealthy school district. We bought a mini broadcasting kit that comes in a briefcase for $1,000. The audio feed is via a phone line, and at some of the away games we use cell phones. Now we're looking at expanding beyond sports to things like graduation ceremonies. I'm pretty excited about where we can go from here."
Five years ago, streaming video (or even audio) of high school athletic events was going nowhere. A few companies, including iHigh.com, dabbled in the concept but most didn't get very far. "No one really focused on video," says Craig Blanchard, a former iHigh.com employee and now managing partner of EZStream, a Warwick, R.I.-based webcasting platform provider. "But as bandwidth has come down in price and we've all become more connected - remember, five years ago, wireless networks weren't prevalent; now, they're everywhere - video-sharing sites like YouTube have helped people realize that they can view content on the Internet. What we're doing is a natural extension of that."
EZStream, which sells schools 10-, 20- and unlimited-event packages and offers technical expertise in exchange for the schools' commitment to provide local on-air announcers, camera crews and production teams, has powered webcasts of such high-profile prep events as the NFL Global Junior Championship during Super Bowl week and the Kentucky Sweet 16TM state basketball tournament held every March.
Not only does webcasting provide an affordable means for schools to promote their athletic programs, it proclaims a school's digital savviness to the world while offering non-athletes audio and video production opportunities. "It's an extension of the classroom. We want to get as many students involved as we can," says Blanchard, who suggests that athletic directors recruit potential student announcers, camera operators and content producers to oversee the webcasts. "There are kids out there who are not athletes but want to be involved. As long as the kids don't get goofy and chat about girls walking by - which we've had happen - the listeners will be grateful for the service. It doesn't have to be so polished that it sounds like ESPN."
"We'd like to find some interested incoming juniors and get them involved, so they can then train younger students during their senior year," adds Chapin. "The best thing would be for students to take this over."
Blanchard also encourages schools to recruit students to sell advertising spots and produce commercials for playback during breaks in the action. The revenue can be used to offset webcasting costs. Says Blanchard, "We've got schools that make plenty of money doing this."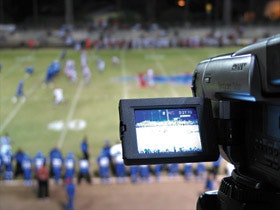 Schools can save plenty of money, too, by opting for the turnkey approach of a webcast provider like Fridley, Minn.-based Crystal Clear Sports. That company follows a different business model than EZStream, yet the result is essentially the same. Crystal Clear offers free programming for schools, sells sponsorship advertising and handles all production details - including providing on-air talent and camera operators. The provider makes its money from user fees to view live or archived content. That fee doubles after 30 days, when content can be either downloaded or burned to a DVD. "It's free content for the schools," says founder and president Randy Luedtke. "Why would they say no?"
Crystal Clear Sports aired Internet audio broadcasts of football, basketball and hockey games from a handful of schools in the Twin Cities area during the 2002-03 school year. The company expanded into video less than 18 months later by streaming the popular Schwan Cup hockey tournament at the Xcel Energy Center; more than 30,000 viewers logged in during the weeklong event to watch 64 of Minnesota's best boys' and girls' teams compete.
As radio stations, many with weak local signals, either can no longer afford to broadcast prep sporting events or get gobbled up by media conglomerates with new programming priorities, industry insiders say the number of schools turning to webcasting will increase significantly. EZStream partners with schools in 45 states (plus 11 state associations), and it boasts archives of 15,000 webcasts dating back to 2004. Most of those are audio-only productions, but Blanchard predicts that as many as 50 percent of his high school clients eventually will opt for video streaming - especially as more athletic facilities become fitted for wireless high-speed Internet access. Meanwhile, Crystal Clear's Luedtke, who by mid-June already had scheduled 69 webcasts of regular-season football games this fall in and around the Twin Cities, anticipates that at least a couple thousand computer users will pony up for a new $10-per-night user fee (a percentage of which will go to participating schools), giving them access to all the prep football action the company streams on that given date.
"You haven't seen anything yet," promises Luedtke, who also is rolling out national franchising packages for schools willing to produce and sell their own events in exchange for 100 percent of all sponsorship revenues. "This is a network platform that anybody can create for their own entities within their communities. Three years from now - I'm not saying five or 10 years from now, mind you - people will be following high school athletes' careers by watching them grow up on the Internet."