Two close calls have high school officials debating the merits of instant replay -- again.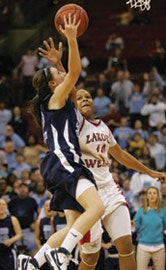 In South Carolina, two state representatives have introduced legislation that would require the use of instant video replay at state high school basketball and football championship games. The swift legal action was prompted by what appeared to be a 75-foot buzzer-beater by Zycorian Robinson in the state's 4-A boys' basketball title game in March that would have given Spartanburg High School the victory over Summerville. The referees ruled that Robinson didn't get the shot off in time, but video replays after the game convinced some observers that the refs were wrong and that Spartanburg was incorrectly denied the state crown.
No such legislation has surfaced yet in Ohio, where a controversial call in the Division I girls' basketball state championship gave Mount Notre Dame High School the title over Lakota West High following a last-second lay-up by Kathryn Reynolds. Video replays of that shot suggested the ball did not leave Reynolds' hands before the clock ran out.
Hank Zaborniak, an assistant commissioner at the Ohio High School Athletic Association, told The Cincinnati Enquirer that he had a video technician show him the replay later. "He moved it frame by frame, and the light comes on before [the ball] leaves her hand. It took 10 frames, and the ball was out of the girl's hand. That represents approximately one-third of a second. That's how close it was. We've been considering replay for two or three years, but this game puts added emphasis on it."
For members of the National Federation of State High School Associations' Basketball Rules Committee, the recent officiating controversies must feel like déjà vu all over again. Previously, committee members have rejected requests to either approve a national rule allowing use of instant replay or let state associations make their own determination on the matter. The committee was expected to revisit the issue in April.
"We're dealing with amateur officials, and video replay is a Pandora's box in many ways," says NFHS assistant director Mary Struckhoff, a former high school and college basketball referee and current coordinator of women's basketball officials for the NCAA. "As an official, I can tell you that we want to get the call right. We never want to have a screw-up, and in some ways, instant replay takes us off the hook. We want to use those resources, because we are expected to make a split-second decision - and we don't want to go home and see that replay on TV for a week. But at the same time, we as guardians of the game are trying to teach kids that winning isn't everything."
Two years ago, after a hotly debated at-the-buzzer overtime call in the boys' state basketball tournament, the Minnesota State High School League courted controversy - and deviated from NFHS rules - when it became the country's first (and so far only) high school athletic association to allow instant replay in basketball and hockey in limited situations. "Call us rebels or renegades or whatever," says Kevin Merkle, an MSHSL associate director. "That's not our intent. But I'm still convinced instant replay is the right thing to do."
The technology was used twice during the Minnesota boys' basketball tournament in March - once at the end of a first half and once at the end of a game. In the first case, officials reviewed the play to determine if a basket made as time expired should have counted (it did not), and in the second, referees looked at the video to see whether a defensive player was goaltending on a lay-up that won the game (he was not).
"Within the state of Minnesota, when we talk with officials, coaches or fans, nobody questions the rule," Merkle says, adding that replay protocol has been tweaked during the past two years. "However, when I talk to people in my position in other states, some of them are against it. They don't want to go down that path at all, for various reasons."
That's why Minnesota's experience with instant replay - and at least two more states' desire for it - may not be enough to generate widespread support for a national (albeit optional) rule. As Struckhoff says, "Something like what happened in Ohio and South Carolina may not happen again for 20 years."