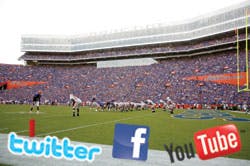 The weekend of Nov. 9-11, 2007, was a great time to be a Badger. On that Friday, the University of Wisconsin men's hockey team opened a home series with rival North Dakota, while the nationally ranked UW volleyball team welcomed Michigan. On Saturday, Bucky hosted the football Wolverines, and Sunday brought the men's basketball regular-season home opener. It was a perfect storm of scheduling that challenged Justin Doherty, who handled the athletic department's day-to-day communications at the time, to somehow capture it all. His idea: dispatch a single staffer armed only with a camera, a computer and the capacity to seek out a good time. "I said, 'Just go be a fan, and cover the weekend for our web site,'" recalls Doherty, who currently serves as the university's assistant athletic director for external relations. "The guy was so energized by that concept. It empowered him."
The lone restriction on the roving reporter was he couldn't drink alcohol. But that didn't discourage pop-ins at Saturday morning house parties, a ride between periods on the Zamboni, and numerous interviews and photo shoots with fans of all stripes - every noteworthy moment chronicled in a running blog that may have made its biggest impression on the man who conceived of it. "It really was kind of a lightbulb moment for me personally," Doherty says, "because it showed me that anybody with a computer is a communicator, that you really don't have to be a trained journalist. And the reality is, we've seen it go that direction now with social media."
Erik Qualman, author of Socialnomics: How social media transforms the way we live and do business (Wiley Publishing), writes on his blog (www.socialnomics.com) that it took radio 38 years to reach 50 million users. For television, it was 13 years. Facebook added 100 million users in nine months.
Today, countless untrained journalists eagerly post commentary, photos and videos referencing their favorite college sports teams. "It's exploding," says consultant Kathleen Hessert, president of Sports Media Challenge. "The fan base in sports, and in particular college sports, is much more passionate and tribal than most consumer audiences. They're doing what they do best - sharing their passion with other fans - and they're doing it through social media."
Many believe this is a boon to both schools and conferences. "It's a way to bring the communities together," says freelance web development specialist Bret Feddern, who operates the fan site www.iowahawkeyes.net from his home in Phoenix, Ariz. "In a sense, they're encouraging the public to do their marketing for them. It's word of mouth on steroids."
But left unfettered (or unfiltered), social media can bring negative ramifications - from fostering potentially illegal recruiting contacts to infringing upon established media rights agreements. The latter scenario has already made headlines twice. In June 2007, the NCAA ejected a Louisville Courier-Journal writer from a super regional baseball game. The charge: live blogging. The association later clarified its position, stating that it was permissible to communicate real-time information from its championship events, but only the game's score and time remaining. This past August, word spread that the Southeastern Conference had created what associate commissioner for media relations Charles Bloom now admits was a far-reaching policy that met immediate pushback from fans who learned they could not so much as tweet from their seats inside SEC stadiums. "When the policy got out, and if you read it by the strictest terms, the feeling was you couldn't do anything," Bloom says. "But that was never the intent."
The goal, says Bloom, was to protect the game footage copyright that the league had negotiated as part of a multibillion-dollar broadcast deal with ESPN and CBS, and thus enhance the revenue-generating leverage of a new digital network platform (maintained by XOS Technologies through a separate agreement) where all archival footage resides. Within days, the SEC had announced a compromise allowing fans to live blog, tweet and even capture cell-phone video at events, so long as it doesn't contain game footage or written play-by-play accounts of the action on the field.
That quick fix notwithstanding, the SEC office, which boasts 11,000 followers on Twitter and another 27,000 fans on Facebook, according to Bloom, still can't match the Big Ten Conference's embrace of social media, Feddern says. This includes making available game footage so that fans can create and share their own video highlight mashups. "You see some of these sports networks that are like, 'See us on Facebook,' and 'Join us on Twitter.' They don't necessarily get it. They're just spamming themselves because they see everybody else and feel they have to do that," adds Feddern. "The Big Ten gets it because you see it's not just their Twitter that they're promoting, it's fans' Twitter."
Hessert - who has addressed social media during a show broadcast last month on The Big Ten Network, in a webinar for the College Sports Information Directors of America, as well as in face-to-face meetings with a growing list of client conferences and institutions - preaches that best practices in social media follow a find-listen-engage-lead strategy, and her company offers a proprietary search engine called Buzz Manager, which monitors how clients are depicted in all manner of online content. "Conversations are going around about their brand - vibrant, full conversations," Hessert says. "If they don't at least listen to them, then they're totally out of touch with their fans. Find where they're talking about your brand, listen to what they're saying deeply and consistently, then after you've become a part of the community and listened for a while, you have a right to engage those fans and ultimately lead them."
Since that busy sports weekend two years ago, Wisconsin athletics has made blogging at events both home and away a regular practice. "We use software called CoveritLive, which allows you to post pretty much real time and also take comments from fans," says Doherty, the current CoSIDA president. "We're able to control what comments we push forward onto the web site, but again, it's another way to interact with the fans, another way to get your message out. What's our objective here? To tell the Wisconsin athletics story. How do we do that? By the best means available. If that's Facebook, then we have to figure out how to work with Facebook. Who knows what the next Twitter is going to be?"
"I don't think it will end with Twitter and Facebook," Bloom says. "There'll be another generation of technology down the road that will probably intertwine it all."
Will schools and conferences be ready? "There will still be the reluctant people," Feddern says. "I don't think we'll ever see [Iowa football coach] Kirk Ferentz on Twitter. But as a whole it's not wise for people to try to deny that this is happening and prevent its usage."
"This is free advertising," says Qualman, who played basketball at Michigan State. "If someone is tweeting about the game while in the stadium, it's alerting people that something great is going on that they could be missing. This should increase viewership, which in turn increases return for advertisers and future revenue for everyone. Those in power now should embrace this, rather than fight it. If they fight it, they will be on the outside looking in."