"Denard Robinson is soooo bad! And it makes me feel so good."
That was Michigan State University backup safety Kyle Artinian's take via Twitter during archrival Michigan's Sept. 2 season-opening loss to Alabama - a game in which Robinson, the Wolverines' star quarterback, struggled. Two MSU linebackers likewise sent tweets mocking Robinson that Saturday. By Sunday, it was national news.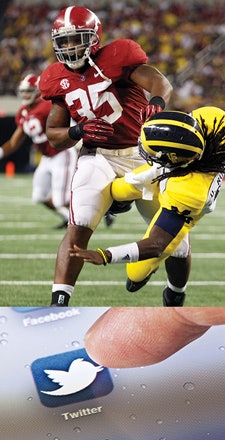 During his Tuesday press conference, MSU head coach Mark Dantonio told reporters, "Our guys need to keep their mouths shut," and asked, "Is there a shut-your-account-off that I can just throw a switch?"
"Now, the coach's weekly press conference on Tuesday is not focusing on the next football game; it's focusing on what three of his players posted on Twitter," says Kevin Long, founder of UDiligence, a company that monitors student-athletes' use of social media. "So it becomes a distraction for the coach, it becomes a distraction for the school. And the fact that it's now been printed in just about every sports column across the country means that anytime anybody goes out and Googles those three guys' names, those are going to be the top stories that come up. I think that athletes don't fully comprehend what that could mean for their long-term online reputation."
Some coaches — including Boise State's Chris Petersen, South Carolina's Steve Spurrier and Florida State's Jimbo Fisher - have thrown at least a figurative switch by banning their players from using Twitter. Others are employing the services of companies such as UDiligence, which officially launched in June 2008 and has fewer than two-dozen clients, and Varsity Monitor, which has even fewer clients than that as it approaches its third year in business. (In June, Varsity Monitor acquired a third player in the market, Centrix Social.)
With the blessing of client athletic departments, coaches and the athletes themselves, both companies use software algorithms to flag potentially embarrassing or damaging words and phrases, as well as the proper names of rival players and sports agents, if and when they pop up in student-athletes' Twitter, Facebook and YouTube posts. Coaches are then alerted automatically.
"We're looking for words and phrases that could be associated with inappropriate conduct online or things that could jeopardize eligibility," says Varsity Monitor founder Sam Carnahan. "A simple word, which isn't a bad word and certainly isn't a banned word, is the word 'free.' Athletes can't be receiving benefits, so something as simple as saying, 'Had free meal at Champs last night,' could essentially be a minor violation and something that needs to be addressed."
It's a process that Deadspin's Jack Dickey has labeled "ethically and procedurally dubious," and one that Carnahan is more guarded about than Long, who shares that UDiligence's list of words and phrases can number anywhere from a mere handful to more than 650, depending on the given coach's tolerance threshold. Some words on the list are intentionally misspelled, abbreviated or shown to reflect common character substitutions, such as a dollar sign replacing an S. Some aren't even words, but rather acronyms often associated with texting. All are subject to change during regular focus groups with college students, or based on institutions' suggestions.
The UDiligence list can be further broken down into categories (profanity, violence and alcohol, to name three), and words or phrases are ranked in terms of importance, with their alert-generation immediacy adjusted accordingly. High-level words send an alert instantly, while medium-level words might be compiled into once-daily emails.
"To show how this really is a mentoring and educational tool, we provide those same alerts to the student-athletes themselves," Long says. "They get an email once a day with anything they posted that hit an alert in the past 24 hours. That gives them an opportunity to take responsibility for themselves and take it down."
Both companies claim student-athlete education as a top priority, since - as the NCAA is fond of saying - most student-athletes will be turning pro in something other than sports. "Familiarity with and the ability to use social media well is almost a required skill if you're going into, say, marketing or sales or even technology," Carnahan says. "But even with education, students are young and continue to sometimes make mistakes. And that's where we help. A lot of what we do is through continued re-education. I understand the coaches are concerned about distractions and other things, but I think college athletes need to be exposed to social media so that they have the proper skills for post-college careers."
Says Long, "When a prospective employer Googles you, you want to be Googleable for the right reasons - for being a team captain, for scoring the game-winning goal, for being humble in victory and gracious in defeat - not for posting something inappropriate on a Facebook or Twitter page that would leave any question as to your character. And those can be things that college students don't consider to be inappropriate because that's their preferred method of communication - tweeting someone, putting a Facebook post up on somebody's page. They're not saying anything different, I don't think, than any previous generations of athletes. It's just that they're doing it in a fashion now that's leaving an electronic trail."
Consider the case of Ohio State University third-string quarterback Cardale Jones, who on Oct. 5 tweeted the following: "Why should we have to go to class if we came here to play football, we ain't come to play school, classes are pointless."
Ohio State is not a client of Varsity Monitor or UDiligence, and the words "class" and "classes" are not on the UDiligence flag list, unless a coach somewhere has chosen to add them, according to Long. One might be wise to do so. "Google him," Long says of Jones when contacted mere hours after the tweet was sent. "It already dominates the top 20 results under his name, and as it gains more and more steam, those search results will become more and more entrenched and difficult to dislodge. Good luck getting a job, should he ever change his attitude and actually graduate, and any future employer checks him out online to find this."
(For those select student-athletes who are going pro in sports, Long reports that four NFL and two NBA franchises have contacted him about adding UDiligence to their processes of screening potential draft picks.)
Not surprisingly, neither Long nor Carnahan believe the practice of coaches banning social media access is a good thing. "I don't think it's the right approach, but I understand why they go there," Long says. "It's much easier to say, 'Don't do it,' and then not deal with it at all than it is to try to educate and mentor student-athletes when they make mistakes."
"Many of these coaches don't have a clue about social media themselves, so they don't know how to educate" student-athletes about it, says Kathleen Hessert, who as president of Sports Media Challenge has led several high-profile college sports programs through social media training. "So the easiest way they can go about it is to ban it. That is the equivalent, in my mind, of saying don't play football because you can get a concussion."
Student-athletes, particularly those likely to move on to professional sports careers, need Twitter latitude while in college, according to Ken Paulson, president of the First Amendment Center. Moreover, blanket bans pose legal concerns. "Can a coach at a public college condition participation in the sport on a promise not to engage in free speech via Twitter?" Paulson asked in a USA Today article he authored in April, one month after the NCAA stripped the University of North Carolina football program of 15 scholarships following an impermissible-benefits investigation triggered by one player's tweet nearly two years earlier. "Certainly, a scholarship offer can spell out standards of conduct expected of team members during the season, but a broader off-season limit that also proscribes non-sports speech could be challenged. Courts frown on prior restraint."
In September, Old Dominion's Bobby Wilder went where apparently no coach had gone before, instituting a Twitter ban for his football players that applies not only in-season, but year-round. "When they prohibit student-athletes from using social media, they are not trying to teach the student-athletes anything," Hessert says of coaches. "They are just trying to sleep better at night."
Plenty of waking hours have been devoted to debating the legal merits of social media monitoring, too. "Lawsuits have been lost by employers who require passwords so they can monitor employees," Hessert says. "There are laws and regulations in a growing number of states that prohibit employers from monitoring the social media of their employees, which has to have a trickle-down effect, ultimately, to coaches and student-athletes."
At North Carolina, a Varsity Monitor client, the UNC Center for Media Law and Policy convened a panel Oct. 2 called "Why Can't We Tweet? The First Amendment, UNC Athletics and Social Media." Panelist Barbara Osborne, a professor of exercise and sport science, defended the constitutionality of social media monitors. "I can say unequivocally that they do not violate free speech rights or privacy rights," she said. "Free speech doesn't mean you can say whatever you want, at any time, for any reason, without having repercussions. As long as the school has a good reason, to maintain order and discipline, it can regulate the time, place and manner [of speech]."
For its monitoring to function, UDiligence requires student-athletes to install on their personal accounts apps specific to their school and the social media outlet. There's a University of Louisville Twitter app, for example, and a separate Louisville Facebook app. "Part of the terms of service for social networks is that you have to request permission in order to be able to access the information, and when the student-athletes agree to allow to have that app on their page, they're allowing you to pull the information and follow the terms of use, which is what we do. So there are no privacy violations whatsoever," says Long, who likens apps installation to drug tests, GPA requirements and curfews. "There are going to be things that are required of you to be a member of the team," he says. "This is just one more of those."
"As an athlete, it's a privilege to be on the team that you are on," UNC track and field senior Chadd Pierce told The Daily Tar Heel student newspaper in October. "I really like our university's policy on social media."
In its statement on the UNC scandal, the NCAA offered policy recommendations of its own. While it said member institutions do not have a "blanket duty" to monitor social networking sites, a duty to monitor may arise if an institution becomes aware of an issue that might be resolved in some part by reviewing information on a site; receives information regarding potential rules violations, and it is reasonable to believe that a review of otherwise publically available social networking information may yield clues to the violations; or has or should have reasonable suspicion of rules violations.
Once the NCAA's ruling came down March 12, Hessert says, "it was a foregone conclusion that schools were going to start consistently monitoring their student-athletes."
"Every school, every administration, on some level is monitoring social media," Carnahan says. "They may be doing it manually - just checking on Twitter accounts from time to time. What we're able to provide is a highly efficient and significantly more effective way to do the same thing."
Artinian and his Michigan State teammates may have had their fun with Denard Robinson, but only fleetingly. "They were commenting about an opponent and didn't have any idea that it was going to be picked up so widely, I guarantee you," says Long. "But now they have to suffer the consequences."