How does your program get the word out about its facilities, classes and events? What about when something is cancelled or rescheduled?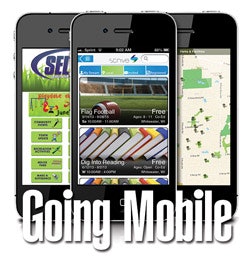 How does your program get the word out about its facilities, classes and events? What about when something is cancelled or rescheduled? Parks and recreation departments are quickly realizing that the standard arsenal of websites and email notifications, print and digital catalogs, direct mailings and other print media aren't having the impact they once did.
It's something Choton Basu, professor of information technology at the University of Wisconsin-Whitewater and director of its Global Business Resource Center, recognized years ago. "Tech-wise, agencies were not keeping up," he says. "This whole idea of brochures and catalogs from parks and rec - I knew they were going to be obsolete. My son never brought home a brochure or catalogue; I heard about programs from other parents who had signed their kid up. There was this peer-group effect that helped people find out when things were happening."
Basu recognized that the way people communicate was changing. Wheels spinning, Basu approached the National Recreation and Parks Association with an idea to create a mobile program that would allow users to know instantly what was going on - not only in their own community, but in any community across the country. The mobile application, Strive, was unveiled locally this spring, with plans to expand not far off. "Right now, we show data from a couple parts of the country," he explains, "but we're being very deliberate in how we roll out Strive because we want to make sure we're capturing the customer experience in the best way possible."
GETTING STARTED
When it comes to mobile platforms, the possibilities are almost endless; apps can do just about whatever a developer wants them to. That doesn't mean an app should do everything - at least not in the beginning. "It's good to start out gradually with the integration of technology," says Tony LaFrenere, executive director of the Schaumburg (Ill.) Park District. "Start with the basics and build on that to make sure the quality stays intact. Look to your users to find the information they want most and focus on that."
Schaumburg's recently unveiled ParkFun app is essentially a directory of all of the park facilities in the area, complete with photos, amenities found at each, hours, contact information and map information. "We were looking for the app to be an information resource," LaFrenere says. "We have a lot of facilities and parks within Schaumberg and wanted to make sure our users have the most up-to-date information."
The next step is allowing users to sign up for events and activities. "We haven't gone down the registration road yet," says LaFrenere. "We'll get there. Right now we really want to make this information-based. Upcoming features will integrate the news and events portion. We're looking at quick links to sports leagues and other notification settings."
Beyond the ability to instantly access park facility information, apps can give users the opportunity to customize their interaction with an organization, opting into the information most relevant to them. "The biggest success point is viewing conditions for things like the pool, fields or ice rink," says LaFrenere. The ParkFun app allows users to receive notifications related to specific activities or events. "It will notify you if your son's tee-ball field is open or closed, or if the pool is open or closed."
SPREAD THE WORD
Mobile technology is set to eclipse more traditional means of accessing the web in the near future, and organizations need to adapt to the changing communication habits of their users. "People don't answer their phones anymore," says Gregory Nasto, president of Royal Oak, Mich.-based Mousetrap Mobile, which has partnered with the Michigan Recreation and Parks Association to bring its text messaging system and SMART Parks & Recreation app to any community in Michigan that wants it. "If you want to reach someone, you send them a text."
Most of the Michigan communities Nasto has worked with are eager to utilize the company's text alert service, even if they're not ready to commit to a mobile app. The text system allows parks to send out notifications about activities, cancellations or closings, public events, surveys, reminders, weather conditions and more - users can opt in to as many notification lists as they want.
One of the service's more critical purposes, says Nasto, is public safety. "We're able to communicate with people at an event should there be an emergency. A parent can upload a picture of a missing child right to event security, and they can distribute that information to all the field security people instantaneously."
The communication model shouldn't be constrained to individual communities. Mousetrap is working on different applications that bring together common interests throughout the state - an app specifically designed for all of the state's municipal golf courses, softball leagues or even farmer's markets, for example.
It's similar to the concept Basu is aiming for with Strive, which will allow users to know not just what's happening in their community, but wherever they go. "The day is coming when you will be able to access any parks and recreation program in the country," he says. "If you're in Colorado, you should be able to use your Strive ID to see and sign up for activities whether you're visiting for a week or vacationing there for the summer."
Being able to share information, not just with users but between users, is key to building community engagement, says Basu. "Kids aren't easily motivated to get up and go for a run, but if they know their friends were out there, they will go out and participate," he says, noting that Strive is integrated with Facebook and Twitter, allowing users to easily share what they're doing. "It takes away the barriers of parks and recreation agencies to get the word out and lets the community do the marketing for you."
AD VALUE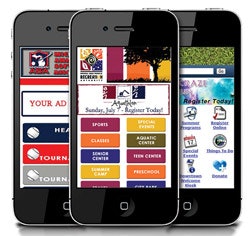 Mobile applications aren't free; they require time and resources to develop and maintain, and that cost must be paid somehow. Some applications charge a monthly fee or collect a convenience fee for registrations paid via mobile app. Some include ads or sponsorships.
"Today, mobile advertising is one of the most sought-after pieces of advertising real estate," says Gregory Nasto of Royal Oaks, Mich.-based Mousetrap Mobile. As such, Mousetrap has built sponsorship into its SMART platform and text alerts. The revenue generated is split between the parks and recreation department, the Michigan Recreation and Parks Association and Mousetrap. "We give 15 percent of the gross revenue back to the community for its programs. If the park system wants to bring in the sponsor, it gets an additional 15 percent."
One of the concerns with including ads is whether the content fits with the organization's image, but it's a concern most developers will understand and heed. "We have a family-values clause," explains Nasto. "No alcohol, no strip clubs, nothing like that. Programs also get first right of refusal on whether a sponsor goes or not. We also ask for a sponsor exclusion list. Maybe a program has a contract with Pepsi and we can't advertise Coca-Cola."
Recognizing the value of such advertising, the City of Warren opted to outright purchase Mousetrap's text alert service, taking over all of the sponsorship work and pocketing 100 percent of the profits. Moreover, the business-savvy city understands that even without ads, the system has the potential to pay for itself. Rather than starting with an app to provide facility information and notifications, they're focusing on functions that will boost participation, says Nasto. "They're starting with revenue programs. They're using customer-loyalty kiosks for check-ins for their fitness center - after five visits, they get a free visit. It's a way of driving return on investment."
Building a Successful Website for your Parks and Rec Agency.