It's definitely better to give the last presentation, isn't it? The Chicago Olympic bid committee went first today in Denmark, fielding questions from 106 IOC delegates, including a particularly pointed one from a Pakistani delegate about foreign athletes' ability to enter the United States freely. But even the star power of the President and First Lady were unable to sway the 97 eligible first-round voters, as the Windy City was eliminated in the first round.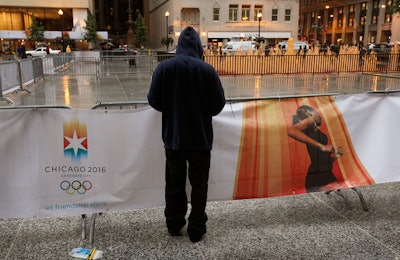 Tokyo was voted out in round two, setting up an interesting final matchup with the vote just minutes away: Rio, which along with Chicago was a favorite, against Madrid, which has bid for the last three Olympics but faces the daunting task of convincing delegates that Europe should get the 2016 Games right after London hosts 2012.
There's sure to be criticism back here at home in the coming weeks about the Chicago bid's being long on emotion and short on details, but what about Madrid's? Their presentation wrapped up with former IOC head Juan Antonio Samaranch asking the old-boy network to grant his home country the Olympics before he dies. "Dear colleagues, I know I'm very near the end of my time, I'm 89 years old" - say what you will, but personal pleas don't get much more naked than that.