During home games, when a player would hit a foul ball into the Tiger Stadium stands, Detroit Tigers radio broadcaster Ernie Harwell would, in his characteristic light Southern drawl and easygoing delivery, say "a man from Livonia with the catch," or "that ball was caught by a young lady from Saginaw."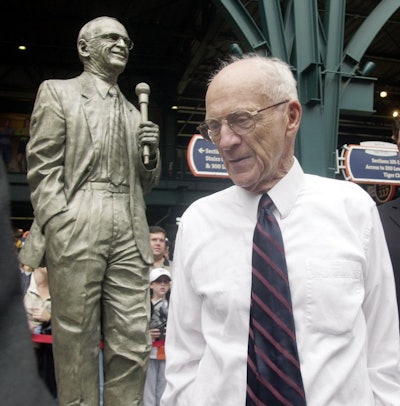 As a kid growing up in Ann Arbor, Mich., whose first memories as a sports fan were of the Tigers' pennant run and World Series championship in 1984, you didn't question how Harwell knew where those fans were from. He knew everything about baseball - everything - and he was a fan just like you. It was a kind of magic.
But it wasn't his numerous and understated catch phrases ("that ball is loooong gone!" or, after a called third strike, "he stood there like a house by the side of the road and watched it go by") that best demonstrated this magic. Rather, it was his understanding of the game itself - its cadence, its rhythms. He would pause naturally between pitches, allowing the sounds of the ballparks to come through the radio. You could hear jeering fans, the calls of vendors in the aisles. I remember hearing birds. Thanks to Ernie Harwell, you grew to love these sounds as you grew to love the game.
Approximately two years ago, I had an opportunity to interview Harwell. A group of conservationists and baseball historians led by him were making an attempt to save his beloved Tiger Stadium, which had fallen into disrepair since closing in 1999 and was being auctioned off piece by piece in order for the city to fund its demolition. A lawyer representing the group asked if I'd like to interview Mr. Harwell. Of course, I said yes. The next day, Ernie fell ill. My deadline called and the interview never happened. I regret the circumstances.
Now, Tiger Stadium is demolished. And yesterday, Ernie Harwell died at age 92 after a battle with cancer. Thankfully, though, I am just old enough to have been one of the lucky kids to whom Ernie introduced the magic of baseball. And I'll bet anyone of us will tell you that, deep down, we still believe Ernie knows who we are and where we're from. And maybe one game, we'll be lucky enough to have a foul ball come our way.