Easton-Bell Sports CEO Paul Harrington joined representatives from Little League International and the California Interscholastic Federation on Monday to unveil a new helmet prototype designed to help protect pitchers on the mound. "With our pitching helmet prototype, we have redefined what is possible and launched a new era of protection for baseball pitchers," Harrington said from the manufacturer's new Helmet Technology Center in Scotts Valley, Calif.
The prototype was developed, Harrington said, to protect players like Gunnar Sandberg, the 17-year old Marin (Calif.) Catholic High School pitcher who suffered life-threatening injuries last March when he was on the mound and hit in the head by a batted ball. Sandberg, who attended the product introduction and will be testing the prototype for comfort and performance, was placed in a medically induced coma to save his life after his skull was fractured and his brain swelled.
Now recovered and back on the field, Sandberg is striving - along with his family - to improve safety for baseball players and help prevent other families from suffering similar tragedies. "The time is right to introduce headgear that is well designed, comfortable and, more than anything, protective for the pitchers and fielders," says Bjorn Sandberg, Gunnar's father. "We are on board to help minimize the risk."
The pitching helmet prototype uses lightweight energy-managing materials to provide protection to the most vulnerable areas of the head, without compromising comfort or performance, Easton-Bell officials say. The helmet is made of expanded polystyrene polycarbonate, which is attached to a liner and elastic strap.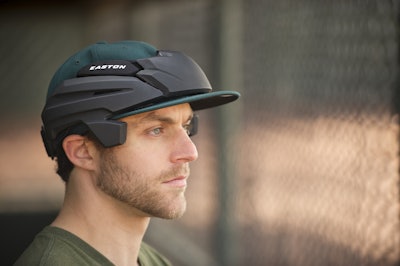 Defensive players and umpires not behind home plate remain the last individuals on the field without stronger head protection. First- and third-base coaches for Major League Baseball teams began wearing head protection following the death of Mike Coolbaugh, a first-base coach for the Colorado Rockies' Double-A team in Tulsa, Okla., who was struck by a line drive in July 2007. College and high school rules mandate that baseball and softball players also wear helmets in coach's boxes.
In related news, the National Federation of State High School Associations has outlawed composite baseball bats for the 2010-11 school year. The ban will remain in effect until composite bats - constructed with the same aluminum exterior as standard aluminum bats, but with a woven graphite wall on the interior - can meet the Batted Ball Coefficient of Restitution (BBCOR) performance standard, which measures the "bounciness" of the ball and bat. Before the composite bat is reinstated at the prep level, the committee also wants it to produce consistent results throughout its life, be labeled as a composite product and be made tamper-evident.