A Toronto-based forensic engineer has developed what he claims is a better hockey helmet - one that uses "air bag" technology to dissipate sudden jolts of force and reduce the G-force on brains floating inside skulls.
In light of last week's controversial check by Boston Bruins defenseman Zdeno Chara that sent the head of Montreal Canadiens forward Max Pacioretty into the glass partition between the benches and left him with a severe concussion and cracked vertebra, The Toronto Star reports that Jeff Archbold thinks the answer to curtailing hockey concussions lies in the laws of physics. "From the beginning, I knew you had to have an air-filled sack inside the helmet," Archbold, the 42-year-old president of ForceCap Technologies, told the paper. "Just like an air bag in a car, if you bump someone in front of you, it doesn't go off, but if you have real impact, it does."
If a hockey player gets knocked hard enough to deploy the bladder, player and coach both know there is scientifically calibrated evidence worthy of attention from a trainer or doctor, Archbold says, adding that he recently obtained a U.S. patent pending on his helmet's design.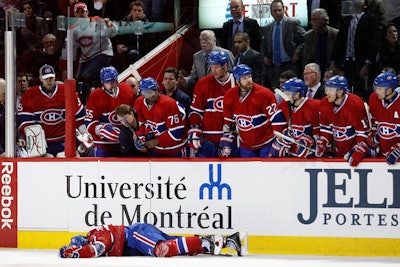 Another Toronto company, Impact Machine Design, also has a U.S. patent pending for a redesigned hockey helmet called the Vault - inspired at least in part by a 14th century Italian armet, which completely enclosed the head. "It's a concept for a better fit and a face guard that doesn't come into contact with the jaw," product designer and senior partner Morgan Matthews told The Star. "Every helmet with a face guard relies on the chin to diffuse energy. No matter where you get hit, it goes to the chin or jaw and that's one of the most vulnerable places. You're never going to get a better fit with the current [hockey helmet] design. Helmet standards haven't kept up with current medical research on the brain and with the capabilities of design and processes available today with molding, foam and materials."
Pat Bishop, a retired professor of kinesiology at the University of Waterloo and an expert on helmet safety, doesn't think a helmet alone is enough to prevent concussions in the NHL. (At least 19 players in the league are suffering from confirmed concussions or other severe head injuries.) "The helmet's job is to prevent serious, catastrophic brain injuries, not prevent concussions," he said. "The notion that you can keep beating people around the head and stop concussions is silly. Until the NHL gets that through their head, everything else is [a] Band-Aid."