This one is so goofy - I do not mean that as a reference to the beloved Walt Disney character - that I barely know where to start. Okay, the news, courtesy of the Atlanta Journal Constitution by way of unofficial Disney media outlet Stitch Kingdom: The Atlanta Braves are currently in negotiations with Walt Disney Company to clear up a dispute over what the MLB team says is a misuse of its trademark - which it doesn't own.
The Braves are mad about "Brave," coming to movie theaters near you in June 2012. It's a Pixar production about a Scottish princess whose archery skills help her save her kingdom from a beastly curse. The Braves' lawyers claim the movie's title could dilute the team's brand, even though the team doesn't own the trademark on the singular form of the name, which is used in team merchandising and in reference to players.
I'm imagining Mike Myers in the role of the Scottish princess: "Och, awa' an' dinnae talk pish!"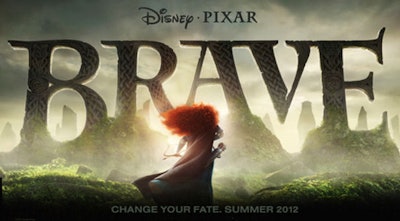 Negotiations between the sides continue in advance of a Jan. 18 deadline for the team to file opposition papers with the Trademark Trial and Appeals Board. According to United States Patent & Trademark Office records, the formidable Disney team of marketers has been registering different uses of "Brave" for the past year.
It all reminds me a bit of the NBA lockout. Is there anyone to root for in this millionaires-vs.-billionaires scenario? The alleged fascist who gave us enough warbling princesses and talking teacups to fill the world's asylums a hundred times over? Or the team that churns out foam tomahawks by the millions?
And is it too late for me to go to law school?