If you haven't been paying close attention, you may not have noticed the gradual relaunching of the United States Football League. The organization, headed by San Diego businessman Jaime Cuadra, unveiled its new logo late last week as part of a plan to establish a fresh brand identity. "We are building this league from the ground up, and we believe it is vital to our early success to distinguish ourselves as a new brand of USFL football representing 'Real. Fun. Football,'" Cuadra, USFL president and CEO, said in a statement announcing the stocky powder-blue logo, which is said to incorporate elements that pay homage to the league's roots while also positioning the league as a dynamic and modern version of its predecessors.
"It's definitely not going to be your dad's USFL," Cuadra told Dennis Lin of The Birmingham News earlier this month.
The eight stars featured on the logo were added to represent the eight original teams expected to take part in the league's inaugural 2013 season.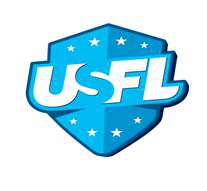 USFLnew.jpg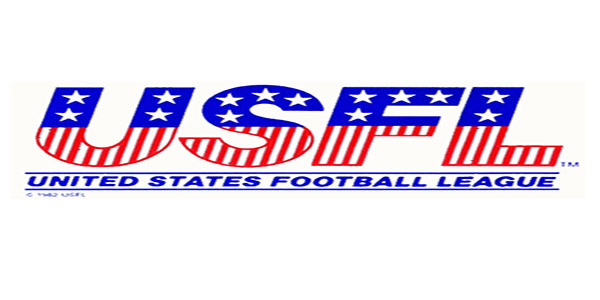 usflold.jpgThe USFL is planning to field eight teams that will each play a 14-game schedule, kicking off in March and concluding with a four-team playoff tournament and championship game in June. The USFL plans to adopt all playing rules of the National Football League, and the league has targeted several U.S. cities for possible franchises. In late June, league leaders kicked off a tour with visits to Akron, Ohio; Austin/San Antonio, Texas; Portland, Ore.; and Salt Lake City. Also on the USFL's wish list, according to multiple sources, are Birmingham, Ala.; Memphis, Tenn.; Omaha, Neb.; Raleigh-Durham, N.C.; and Oklahoma City. As the new USFL's website states, the league will not compete with the NFL. This USFL "will always be a spring football league, and it will allow its players and personnel to move freely to football's highest level in its role as a developmental league."
"We have talked a great deal about the idea of a developmental league," NFL commissioner Roger Goodell told reporters in May. "We actually think that there could be a role for that. Particularly with the changes in the Collective Bargaining Agreement - the limited amount of time the younger players have to either be evaluated or develop their own skills - should we have some sort of developmental league? It is something we will continue to pursue. If we do it, my personal view is it should be defined what the actual objective is. If it is a developmental league, let's call it a developmental league. Let's design it as a developmental league. If it is going to be a commercial league that is trying to generate fan interest or generate revenue, we should also be clear of that objective. I think our general view right now is to make it a developmental league."
"While this is not a direct endorsement of the new USFL, the re-introduction of the USFL would provide exactly what the NFL is looking at creating," wrote Eric Schmidt of The Pigskin Report, who later characterized the league's new logo as "a little weak": "It's a shield which thinly resembles the NFL's logo and the powder blue color is simply not bold enough."
Former NFL players and personnel, including Fred Biletnikoff, Bob Golic, Jeff Garcia, Jim Bailey and Terrell Jones are involved with the new league, which also will endeavor to prepare players for life after football by providing mentoring and counsel to expand their awareness of opportunities both inside and outside the game.
The original United States Football League operated from 1983-87 and played a spring/summer schedule - although its final full season was in 1985. Before operations ceased, the USFL was slated to begin competing head-to-head against the NFL in the fall of 1986.