Professional women's soccer has a problem. Actually, a lot of problems. But here's one I'm not sure has occurred to the backers of the latest league: Women's soccer is running out of acronyms. There was the Women's United Soccer Association (WUSA, 2001-3) and Women's Professional Soccer (WPS, 2009-11), and now there's going to be the National Women's Soccer League (NWSL, 2013-?). After this league folds (in 2015, if my math's correct), someone will be able to start up the WNSL and WNPS, but then they'll have to really dig deep in 2028 for a name that doesn't carry with it the stench of failure. Maybe by then it'll occur to women's soccer advocates that a different tack must be taken to establish it as a professional sport.
I've written about this three times now, twice with regard to the WUSA and once after the first full season of WPS. The problem with women's soccer is that people insist that it must start out as a "Major" league, rather than go through the process of going from semipro to minor/lesser to major. Major League Baseball didn't spring up, fully formed, with 30 teams playing coast to coast and a $7 billion television contract, in 1876. To become "major," the league would have to change its rules dozens of times, stop spectators from standing on the field behind a rope line, produce the Cleveland Spiders, retire the dead ball, throw a World Series, ban Negro players (and reinstate them half a century later), and put an asterisk next to Roger Maris' name. From Abner Doubleday to Connie Mack to George Steinbrenner takes multiple generations.
The National Women's Soccer League will begin play with four Northeast teams, two Midwest teams separated by 525 miles, and two teams in the Pacific Northwest. There will be, arguably, one true regional rivalry, and meanwhile, the league will spend millions on travel and marketing the sport as "national." There will be 4,000 people at the games (about what the WPS drew), and no television money to speak of. What makes anyone think that this league will fare any better than the last one?
The single biggest difference is that, this time around, U.S. Soccer will help administer the new league, and will subsidize the salaries of up to 24 players from the national team. To which I reply: So? Will that bring in more fans, or attract sponsors? Kate Markgraf, a former defender on the national team and now an analyst for NBC, told The New York Times yesterday that she thinks - you're not going to believe this one - that players like Megan Rapinoe will draw fans where players like Mia Hamm failed to. "I think this is a team that has become bigger, the biggest women's soccer team this country has ever had," she said. "These players are known as a team, but also as individuals, so I think this is the best chance they're going to have."
Listen, I love Megan Rapinoe - but Mia Hamm wasn't known as an individual? Did Markgraf intern for The Onion?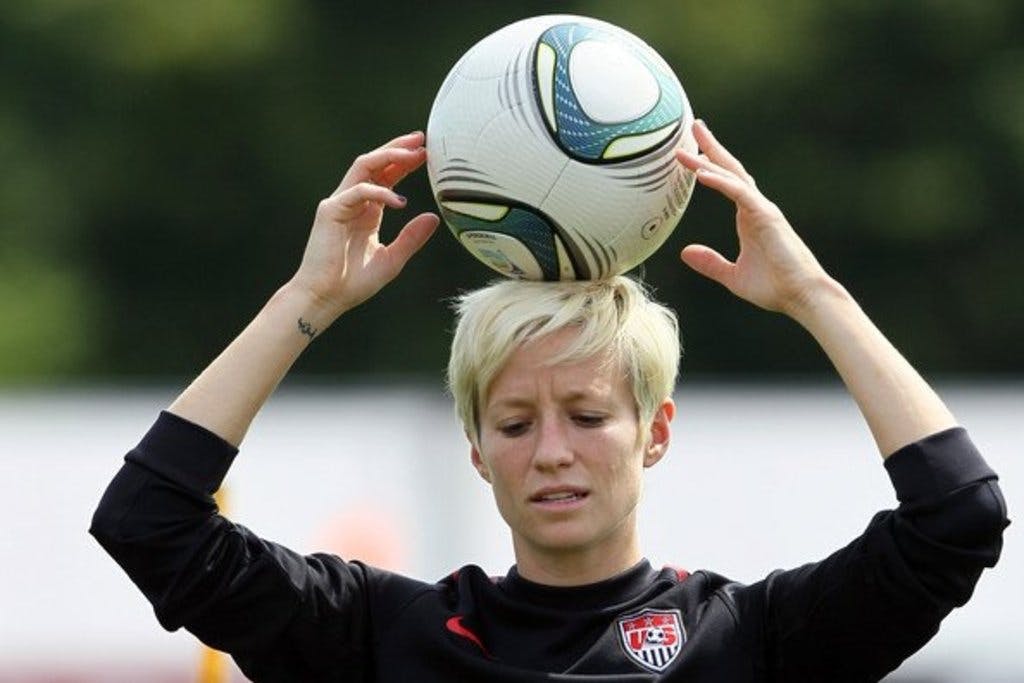 megan-rapinoe.jpg
Who doesn't love Megan Rapinoe?
Nobody asked me - nobody ever asks me - but it's clear that, absent scads of national sponsorship and television revenue, and without media support, women's soccer doesn't have the fan base to survive on a national level. What women's soccer needs (and what it already has, semi-professionally, in several parts of the country) is a strong regional structure that can grow organically. Eight teams bunched closely together, where presumably fans will care about who dominates the sport between Washington and Baltimore, is what built and sustained the NFL for decades until Lamar Hunt and company hatched their socialist revenue-sharing plan and Super Bowl ideas. Long before that, there were epic battles between the Decatur Staleys and Chicago Cardinals, Green Bay and Chicago, Pittsburgh and Cleveland. They hated each other. Their fans hated each other. The Bears still suck.
But no - the NWSL will insist that the Western New York Flash charter a plane to fly to Portland for a match against Thorns FC, and about ten of the 6,000 fans in attendance (Portland is a soccer hotbed) will have even been to Western New York. They'll enjoy seeing Abby Wambach come to town, will probably cheer her politely because of her stellar play for the national women's team, but they won't live or die by the result. They won't pick up the newspaper or tune in to ESPN for analysis (mainly because they can't; the game won't be covered). Only diehard supporters will care, and there won't be enough of them for Gillette to buy the field naming rights or Vagistat to put up ads on the scrolling sideline message boards. If there are any.
Rome wasn't built in a day. Neither was Jim Rome. The National Women's Soccer League isn't substantially different from the two national leagues that proceeded it. That's a serious problem.