Wednesday is National Signing Day for prep athletes. When the student-athletes sign their Letter of Intent, it will mark the end of a months-long, or in many cases, years-long recruiting process.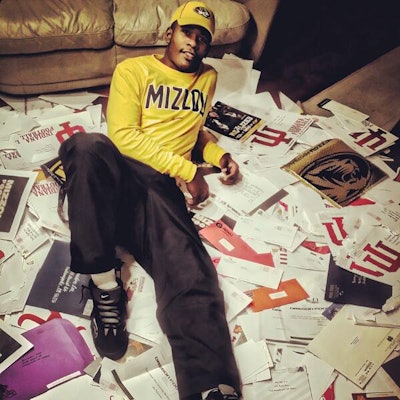 It's no secret that coaches will do whatever it takes to ensure a recruit signs with their school. Just check out this story we tweeted about over the weekend: Three high school prospects from Louisiana were flying to UCLA over the weekend to visit the school. Much to the chagrin of Bruin fans, an LSU coach was "coincidentally" on the same flight to L.A. as the prospects. We can only speculate about what conversations were had during the flight.

But in a day and age when coaches have more ways than ever to reach recruits, it's the handwritten letter that is the enduring staple in recruiting.

As a former sports reporter who covered recruiting for the Rivals.com network, I can attest to this first-hand. Recruits I covered would often share photos on social media of all the mail they received. Letters from various schools would be strewn about their bedroom floor or sitting in stacks on the kitchen counter. It was not uncommon for highly touted prospects to receive 100 letters in a day. In interviews, the prep stars would admit those letters make a difference.

The contents of these handwritten letters range from motivational quotes to more simple messages such as, "We want you!"

The Wall Street Journal outlined this trend in an excellent article published yesterday, with coaches explaining why handwritten notes has become the method of choice:

Quantity counts as much as quality. Bob Wager, a high-school coach in Arlington, Texas, gets so many notes for his players that his mailbox at school is jumbo-sized. "When you start getting handwritten letters from coaches, they're serious," he said.

One day last April, Kentucky bombarded Matt Elam, a 340-pound tackle from Elizabethtown, Ky., with 69 letters. It followed up several months later with 182 letters. Not to be outdone, Notre Dame shipped Elam 270 letters in November, a postage ploy that Fighting Irish recruiters call a "pot of gold."

The outsize attention paid off for Kentucky last week when Elam — who said he received 50 letters on a normal day — chose the Wildcats over not only Notre Dame but also Alabama, which has won three of the last five national titles and is expected to land the nation's top recruiting class this year.

"It shows them the staff will do whatever we have to do," Kentucky coach Mark Stoops said. "We're willing to go overboard."

And going overboard has a price. According to the WSJ, the public universities that finished this past season ranked in the top-25 poll spent an average of $470,584 on recruiting expenses last year. Southeastern Conference champion Auburn spent $1.1 million.

Obviously, letter writing is just part of that expense. But like everything in college athletics, even that is competitive.

As the WSJ article explains:

Coaches are known to gossip about colleagues who use ghostwriters and chew them out when they catch them cheating. They are ribbed by recruits about their chicken scratch, and they can scribble enough to land them on the injured list. "I don't write cursive very neat, so I'm a printer," said Iowa State coach Paul Rhoads. "That makes your hand a little more tired."

Today the coaches can rest and enjoy the spoils of their hard work. But tomorrow they'll be right back to work. After all, Signing Day 2015 is only 364 days away.