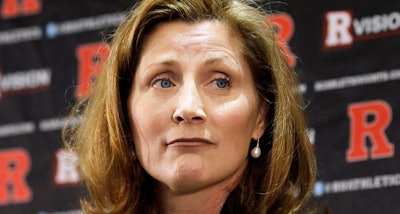 Rutgers athletic director Julie Hermann is not making any friends with the local media.
Speaking to a class of Rutgers journalism students a few weeks ago, Hermann said it would be "great" if The Star-Ledger, New Jersey's largest newspaper, went out of business. The comment was recently made public when one of the students in the class blogged about her comments.

NJ.com obtained a copy of the recorded speech from the student:

"If they're not writing headlines that are getting our attention, they're not selling ads - and they die," Hermann told the Media Ethics and Law class. "And the Ledger almost died in June right?"

"They might die again next month," a student said.

"That would be great," she replied. "I'm going to do all I can to not give them a headline to keep them alive."

Ah, the irony.

But Hermann's comments look particularly bad now considering The Star-Ledger announced last week it would be laying off 167 employees, including advertising executives, journalists, clerks and copy editors.
"It was, for anyone who works here — or, for that matter, anyone with an ounce of compassion — an awful couple days," wrote Star-Ledger columnist Steve Politi.

"Clearly, it wasn't for Julie Hermann," he continued. "She must have been tickled, because this is the same woman who stood up in front of a class of journalism students a few weeks ago and said it would be 'great' if the newspaper died."

Hermann's disdain for the media can be traced back to when she was hired last year. The newspaper reported that she was verbally abusive to players when she was a volleyball coach at Tennessee in the 1990s. The paper published quotes from Hermann's former players describing the abuse.

"The mental cruelty that we as a team have suffered is unbearable," the players wrote in a letter.

In her speech to the Rutgers journalism students Hermann again denied the allegations and said the media coverage of her when she got the Rutgers job was "incredibly painful."