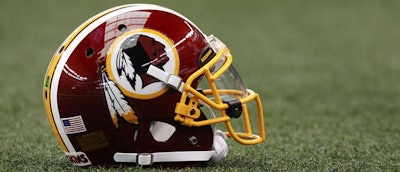 In what's being called a "landmark decision," the United States Patent and Trademark Office has canceled six federal trademark registrations for the name of the Washington Redskins, ruling that the name is "disparaging to Native Americans." Due to its "disparaging" nature, the name cannot be trademarked under federal law which prohibits protection of offensive or disparaging language.
Think Progress originally reported Wednesday morning's decision in the case brought against the team by plaintiff Amanda Blackhorse.

"We decide, based on the evidence properly before us, that these registrations must be cancelled because they were disparaging to Native Americans at the respective times they were registered," the board wrote in its opinion.
Related: Video: Anti-'Redskins' Ad Airs During NBA Finals

So what does this mean for the team? Think Progress reports that Washington will almost certainly appeal the case and will be able to keep its trademark during the appeal. Redskins owner Daniel Snyder has been steadfast in his defense of his team's nickname.

Quoting The Washington Post: "[NFL Commissioner Roger] Goodell and [Redskins] team officials have consistently said they don't believe the name is disparaging and have pointed to a decade-old poll and recent letters to show that many Native Americans support the moniker. Snyder has described the name as a 'badge of honor' and has vowed never to change it."
Related: American Indians Disagree on Embattled 'Redskins' Name

Losing the trademark would not force the team to change its name, but it would allow anyone to use the "Redskins" name on merchandise or other memorabilia, without needing permission.

As Think Progress reports, because of the NFL's revenue-sharing model, losing the trademark would not only cost Washington money, but other NFL teams too. The team's attorneys argued that losing trademark protections and the exclusive right to their brand would cause "every imaginable loss you can think of." For that reason, targeting the trademark has long been thought of by opponents of the team's name as the easiest avenue to changing it.

According to Sports on Earth, Snyder would stand to lose between $10 and $20 million if he is forced to change the name. That report factors in the cost of naming consultants, lawyers, stadium signs, uniforms and many other commercial pieces used by an NFL team.
Today's decision is a major blow to Snyder, but until the appeal is heard, there will be no immediate results from the ruling.