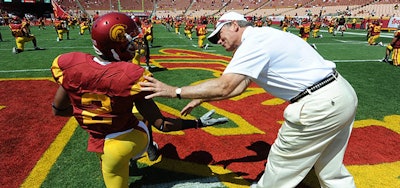 The University of Southern California is joining a short list of Division I schools offering student-athletes an added sense of security with its scholarship offers.
The school announced Monday it will offer four-year athletic scholarships to student-athletes in the revenue sports of football and men's and women's basketball. Prior to the move, USC, like most schools, only offered one-year renewable scholarships. Those one-year renewable offers have come under criticism because, while it happens infrequently, student-athletes could have their scholarship dropped through no fault of their own (due to injury, for example).

As this excerpt from an NFL.com article explains rather bluntly:

One-year renewable scholarships are easy targets for NCAA critics. Coaches basically can run off players they don't think can help the team in the name of "roster management" with one-year scholarships; that will be vastly more difficult to happen with four-year scholarships.

USC athletic director Pat Haden says the policy will be effective beginning July 1, 2014, for all current and future scholarship student-athletes in the three sports listed above.

"In taking this action, USC hopes to help lead the effort to refocus on student-athlete welfare on and off the field," Haden said in a university release.

USC has certainly benefitted from positive media coverage from the announcement, however, it is not the only school to offer such a deal. Many Big Ten schools, and a few others, have offered four-year scholarships since 2012. However, those schools have not marketed their four-year deals the way USC has:
Leading the way in student-athlete welfare, USC will now offer 4-year athletic scholarships in the revenue sports. http://t.co/jc5eQlrMw3

— USC Trojans (@USC_Athletics) June 23, 2014
Schools No Longer Offering One-Year Renewable Scholarships
Penn State
Michigan
Michigan State
Iowa
Wisconsin
Northwestern
Illinois
Ohio State
Nebraska
Auburn
Florida State
"I felt, if we recruit a young man and we put our trust in him as an individual, that he deserves the opportunity to come here and play for four years," Michigan State coach Mark Dantonio told the Associated Press. "We've never cut anybody off a scholarship here for not playing well enough."

Alabama is among the many schools that still offers one-year renewable scholarships, which were put in place for good reason, according to head football coach Nick Saban. Saban told the AP that when he played college football he received a four-year scholarship, but those often led to lawsuits over what violates the terms of the scholarship.

"That was why we went to one-year scholarships," he said. "I think this is some people's cynical approach to think that coaches don't have the best interest of the young people that they coach in mind. I resent that. I think that every coach that I know has the best interest of his players in mind."

While USC's move adds a level of security for student-athletes, it does not exempt him or her from academic and behavioral standards.