Mississippi State's Scott Stricklin and Kansas State's John Currie gave new meaning to social networking on Friday. In what might be a Twitter first, the two athletic directors agreed to a home-and-home football series using the social network.
Stricklin and Currie communicated via Twitter to schedule two games between their respective schools with the teams set to play in Manhattan, Kansas, in 2018 and Starkville, Mississippi in 2019.
"It takes a pretty savvy partner," Stricklin told ESPN's Brett McMurphy. "John's a pretty sharp guy. It was kind of a fun way to do it. There's a younger generation of guys out there that communicate through these mediums."
It all started when Currie, participating in a "Chillin for Charity" video (which you can watch below), was challenged by Stricklin to contribute to the charity. Upon completion of the video, Currie tweeted the video link to Stricklin. The two ADs had already had some preliminary discussions about a possible football series. With Currie striking up the conversation, Stricklin used the opportunity to bring up the scheduling topic.
Stricklin originally suggested the schools play in 2016 and 2017. This Twitter exchange followed: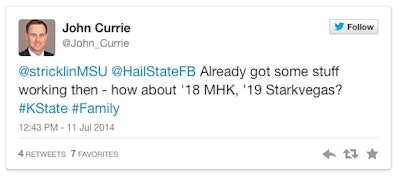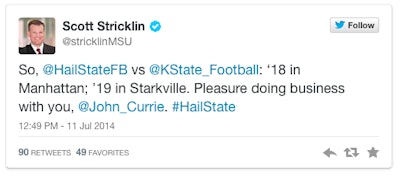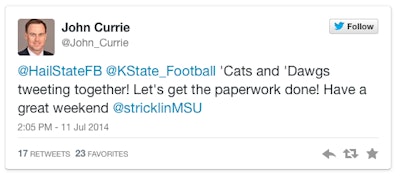 According to ESPN, the schools do not have a signed contract in place for the series yet, but Stricklin doesn't anticipate it will be a problem.