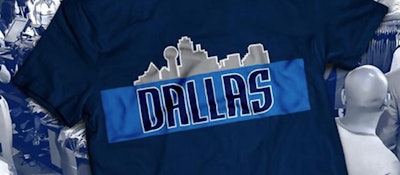 Whether you've seen him on the hit show "Shark Tank" or hollering on the sidelines during NBA games, it's clear that Dallas Mavericks owner Mark Cuban likes to do things differently. So when it came time for his team to freshen up its alternate uniforms, the team turned to their fans.
"We wanted to do something different for a future jersey," Cuban said on Tuesday. "We became the first team to ever crowdsource a real, in-game jersey."
So this is the main alternate for 2015-16 pic.twitter.com/NpcGneCELK

— Bryan Gutierrez (@BallinWithBryan) September 23, 2014
For clarification: these were the submitted versions of the jersey pic.twitter.com/zRnZz6mH7i

— Bryan Gutierrez (@BallinWithBryan) September 23, 2014
This ended up being the final product, with the Navy version being the working one for 2015-16 pic.twitter.com/ZSxGFYgzjV

— Bryan Gutierrez (@BallinWithBryan) September 23, 2014
The idea started last May when Cuban posted a blog encouraging fans to submit an alternate jersey design for his team. The team received more than 1,000 entries and narrowed it down to 10 finalists. Fans then voted for the winner.
The winning design was submitted by Geoff Case, a Dallas native. The design, which may remind some NBA fans of these classic Denver Nuggets jerseys, prominently features the Dallas skyline, which was recently voted the world's best by USA Today readers. Case was awarded $1,000 and season tickets for this year.
"I'm still pinching myself, really," Case told Mavs.com. "This is my favorite team on the face of the planet. And to have something associated with that team and their legacy is unbelievable."
While the jerseys were unveiled Tuesday, they won't be worn by the team until the 2015-2016 season. However, merchandise with the new design is already on sale. Cuban says the alternate uniforms will be worn for eight games.