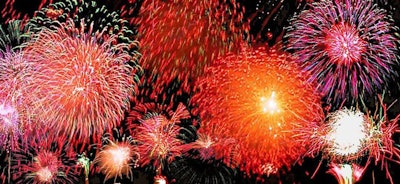 On Saturday, the TCU Horned Frogs football team walloped Texas Tech 82-27. The 82 points put up by the Horned Frogs are the most scored in an FBS game in four years.
In fact, the 82 points were so impressive that the victory used up TCU's allotted fireworks for their entire 2014 season. TCU typically shoots off fireworks following every score.

Here's a tweet from TCU Assistant Athletics Director for Marketing and Licensing Drew Martin:
How prolific is @TCUFootball's offense this year? In yesterday's 82-27 romp over Tech, we shot all the pyro we ordered...for the season.

— Drew Martin (@TCU_Drew) October 26, 2014
The offensive onslaught is rather unexpected, as TCU has been known primarily for their defense since Gary Patterson took over as head coach in 2000. However, the Horned Frogs are now the top scoring offense in the country this year. Let's hope a week on the road will give them enough time to restock their stash.