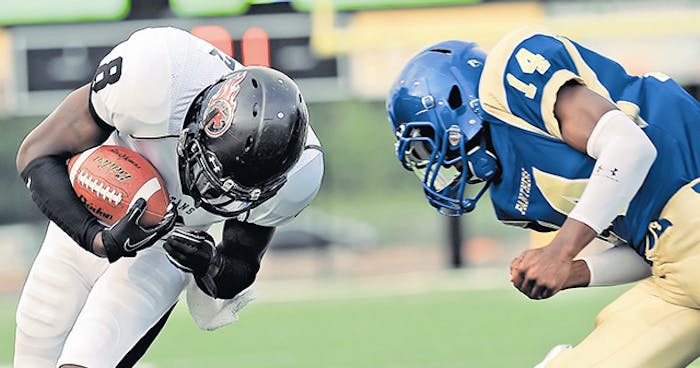 Every hit counts. Every hit to the head can be one step closer to a breakdown in the brain. But for many in today's sports world, we wait until the damage is already done, intervening with a concussion protocol only after the athlete shows obvious concussion symptoms.
Every team should have a concussion management protocol in place addressing compliant education, baseline testing, sideline assessment tools, symptom tracking and return-to-play guidance. This should be a standard in sports. But, I believe an even higher standard is coming. Every contact sports team should embrace new technology that tracks the force and frequency of head hits using impact sensors.

Here are four ways impact sensors, using accelerometer technology, can complement a concussion management protocol:

RELATED: No Green Light for Helmet Sensors at Virginia High Schools

1. Measuring the Impacts
Using impact sensors allows you to measure the collision and rotational forces that may be sufficient to cause concussion injury. Although there is variability among athletes and their vulnerability to concussion injury, the ability to gauge the impact can alert responsible sideline personnel when a player may have sustained a serious hit to the head, and may need attention.

Further research is necessary to identify the threshold level of force to be concerned about, whether it's 50G, 80G, 100G and considering the athlete's age.

Integrating impact sensors into your concussion management protocol gives you a green light to pull a player who sustains a hit above your established threshold for sideline assessment. If the athlete passes under medical supervision, then they may return to practice or gameplay under a watchful eye, since signs of concussion may be delayed. If signs of concussion are present, the player is removed and appropriate management protocol should be applied.

2. Counting Collisions
From a neurological perspective, it's the sub-concussive hits that scare me. We don't see them. Players don't know them. Coaches coach despite them. There is mounting evidence that sub-concussive hits may cumulatively contribute to brain injury, and decreased performance on neuropsychological tests. Furthermore, increasing numbers of cases of Chronic Traumatic Encephalopathy (CTE) are being reported in athletes playing contact sports, who never had a "documented" concussion.

RELATED: Football Player's Who Died at 25 Had Severe CTE

There is now a growing acceptance of the concept of the Hit Count®, a term coined by Sports Legacy Institute (SLI). By counting and measuring the velocity of hits sustained to the head, we gain valuable data that can lead to preventing concussions and further brain damage.

Think of tracking hits and measuring impact velocity like baseball pitchers count their pitches. The more pitches, the greater risk of loss of control and potential injury. Likewise, the more head hits an athlete sustains, the greater the risk of short- and long-term consequences of repetitive brain trauma. Like the pitch count, impact sensors can identify how often athletes sustain possible sub-concussive hits.

I suggest impact sensors count the number of hits an athlete sustains during a day, week, month or season, so athletic trainers can better identify those at higher risk of concussion injury. Each team can establish a threshold before implementing their concussion protocol, and repeating baseline testing to determine if there is impairment over baseline. If so, it would send the athlete to relative rest and into the recovery progressive exertion process, with daily symptom tracking.

3. Protecting the Return-To-Play Process
Impact sensors can be leveraged to protect the athlete during the recovery phase.

One of the key principles of concussion management is to protect the brain from further injury during recovery from concussion injury. At the same time, rehabilitation efforts call for increasing activity and progressive exertion as long as the symptoms of concussion are not provoked. Impact sensors can monitor the recovering athlete during the progressive exertion phase of recovery, to ensure that the level of contact during practice does not exceed normal expected forces.

4. Training Proper Technique
Force monitoring has an added benefit for training safe and proper playing technique. If a particular player is showing an unusually high hit count or maximum force hits to the head, special attention to training of that athlete may be indicated to protect against further injury.

Merging hit count and collision force data improves the ability of detecting concussion risk, while gathering data to further research the correlations between traumatic forces to the head and clinical consequences, including duration and intensity of symptoms, impairment of cognitive performance and effects on balance.

In my own neurology practice, I've treated hundreds of concussed patients. I would highly recommend investigating the merits of a concussion-management system that integrates impact sensors, or at the very least, embracing the idea that every hit counts.

RELATED: Tracking Technology Revolutionizes Athlete Training
---
Cognitive neurologist and author Harry Kerasidis, M.D. co-founded XLNTbrain, Inc., owns Chesapeake Neurology Associates in Maryland and at Calvert Memorial Hospital, he serves as the Medical Director for the Center for Neuroscience, Sleep Disorders Center and Stroke Center. He writes for Psychology Today and his new book, "Concussionology: Redefining Sports Concussion Management" is due in early 2015.