At first glance, one might scoff at any comparison between the athletic feats of an athlete on the field and a gamer online, but for e-Sports competitors, there may be more similarities than differences.
This past fall, Robert Morris University in Chicago became the first college in the United States to offer gaming scholarships, awarding 35 scholarships to League of Legends players in its e-Sports program, which is overseen by the athletic department. The program met with such success that the university announced in December that it would be expanding in fall 2015 to offer scholarships for two more games: Defense of the Ancients 2 and Heartstone: Heroes of Warcraft. 
In January, the University of Pikeville in Kentucky followed suit, announcing 20 scholarships for the League of Legends competition it will launch this fall. "It will be a regime a lot like athletics," Pikeville media director Bruce Parsons told reporters. "They'll have to have a certain GPA. We'll look at them like student-athletes. There will be practice time and video time when they have to study other teams for upcoming competitions."
While most colleges are hesitant to take the leap and recognize gaming as an official athletic offering, more are embracing its growth as a recreational activity. More than 10,000 students compete in college leagues, The New York Times reported last December, an increase of 4,400 over the previous year. As a sanctioned club, many programs receive allotted practice space and are held to the same regulations governing other sports.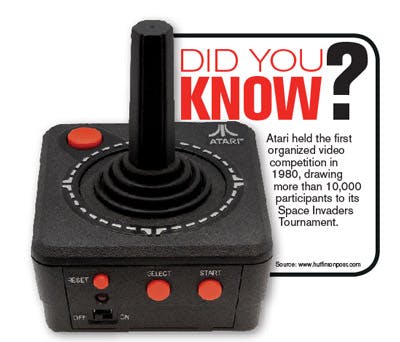 "This is just how basketball was in the 1940s," said Christopher Wyatt, senior manager for North American publishing at Riot Games in an interview with the Times. "A lot of the structure and organization you see in more formal athletics, that groundwork is still being laid down here."
Also this past fall, Major League Gaming opened the first e-Sports-focused arena, MGG.tv Arena, in Columbus, Ohio. The arena features a main stage, soundproof booths, lights, video screens, plenty of IT and video capabilities, and seating — but only for 200. Technology is driving growth of the activity among competitors and spectators alike — last year's League of Legends 2014 World Championship drew more than 40,000 spectators to the actual event, while another 27 million viewers watched online. While professional sports are fighting to pull their fans away from the couch and TV and physically attend a game, e-Sports' popularity is driven by a primarily online fan base eager for more opportunities to experience the action in person.
No doubt the market for e-Sports is there, but should it be considered a sport? It all depends on your definition. "There's certainly no cardiovascular element in e-Sports, but it does require a high level of skill and teamwork," Robert Morris University associate athletic director Kurt Melcher told The Fresno Bee. "It's dangerous to start classifying sports only by the level of cardiovascular activity. Is football more of a sport than golf just because there's running?"
In 2013, the U.S. government opted to recognize gamers as professional athletes for the purpose of obtaining travel visas to play in U.S. tournaments. The push was driven by Riot Games in preparation for its League of Legends Championship Finals — held at Staples Center in Los Angeles and attended by more than 10,000 spectators.
With such an explosion in popularity, it should come as no surprise that advocates are raising the call for e-Sports to be added as an Olympic game. "There's a very good argument for e-Sports being in the Olympics," Rob Pardo, creator of World of Warcraft, told BBC 5 live in December. "I think the way that you look at e-Sports is that it's a very competitive skillset and you look at these professional gamers and the reflexes are lightning quick and they're having to make very quick decisions on the fly."
Proponents of chess have for years been fighting the same battle for recognition as a sport and advocating for inclusion in the Olympic Games. The International Olympic Committee has officially recognized chess as a sport since 1999 but deems it a "mind sport" and thus unwelcome. Even if e-Sports does succeed in being recognized by the IOC, it will likely face the same discrimination.
Still, for collegiate teams, as well as professional and amateur leagues, it's more than just a mental exercise, requiring honed, quick reflexes, hand-eye coordination, teamwork and communication, as well as discipline and hours of practice. Competitors at RMU are expected to abide by the same athletic code of conduct as other sports, attending classes and scheduled practices, Melcher says. "The difference is that when they finish class, they walk fourteen steps over to the arena for practice instead of going to the gym."
---
This article originally appeared in the April 2015 issue of Athletic Business with the title "e-Sports or Just Mind Games?"