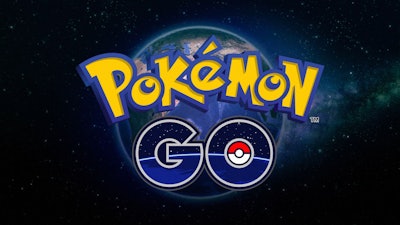 Have you guys heard of this Pokemon Go thing?
Twenty years after the country was first introduced to Pikachu and the horde of collectable monsters, Pokemon is once again sweeping the nation – but this time feels different.
Standard video games – even mobile games – make players anything but mobile.
But with Pokemon Go, mobility is the whole point.
The app, which as of last week had more daily users than Twitter, forces people off their couches and out into the real world to collect the critters.
Using GPS, players traverse their neighborhoods, visiting real-world locations labeled 'Gyms' and 'Pokestops' while capturing the monsters that appear around them. Using the camera found in phones, the game places animated Pokemon as they might appear in the real world, using technology called Augmented Reality (AR).
And while there has been much made about the problems the phenomenon is causing, such as criminals targeting unsuspecting users, it's boosting activity. People are playing the game for an average of 43 minutes a day, which translates to the burning of 1,500 calories a week for women and 1,800 calories a week for men.
Take it from me. Since the app came out on July 6, my fitness tracker tells me I haven't fallen short of my daily step goal — not even once. In fact, I've been exceeding my goal, walking about an extra mile each day. My wife, a fellow Pokemon trainer, and I can't stop ourselves from taking a lap around the neighborhood to hunt for new Pokemon or to hatch eggs — a process that requires us to walk (you can't cheat, driving doesn't work!) anywhere from two to 10 kilometers.
Physical activity... there's an app for that! via @American_Heart #PokemonGO https://t.co/vMIExEKUhw pic.twitter.com/bU1G7Lx8Ic

— PreventObesityNet (@Prevent_Obesity) July 20, 2016
The success of the craze is causing stadium operators around the country to take notice.
Texas A&M and Nebraska have opened their doors to would-be Pokemon masters during special events, and the Jacksonville Jaguars recently announced they would be hosting a sponsored "Pokemon Safari" event inside EverBank Field. The event at Nebraska's Memorial Stadium drew more than 3,700.
Visit #KyleField TOMORROW to catch new #12thMan walk-on kicker #PokemonGo Hitmonlee. Hall of Champions entry at 4P pic.twitter.com/XtfWMUTW6S

— Texas A&M Football (@AggieFootball) July 13, 2016
As the college football season approaches, I'll be very interested to see how and whether programs utilize the Pokemon Go craze to fill stadium seats. After all, you can't catch 'em all if you stay at home!
{module Pokemon Go}