State Farm and Anheuser Busch are big fans of the NBA, so much so that they topped last year's list of league sponsors.
According to new numbers from ESP's Properties' annual ESP Sponsorship Report, State Farm is the most active sponsor of the NBA. Eighty-one percent of NBA properties with a sponsor in the insurance category report a partnership with State Farm.
Sponsorship spending on the NBA and its 30 teams totaled $861 million in the 2016-2017 season, a 7.8 percent increase from the previous year, according to ESP research.
The increase lags the 8.1 percent increase in the 2015-2016 NBA season but exceeds the projected 4.3 percent increase in overall 2017 sports spending and 4.1 percent increase in overall North American sponsorship spending.
ESP projects the NBA will see increased sponsorship spending as a result of its new apparel deal with Nike and growing number of first-year jersey deals.
"While sponsorship spending in the NBA remains healthy, spending is expected to skyrocket in the upcoming year," said William Chipps, ESP Sponsorship Report senior editor.
See below for a more detailed look at who's spending what on NBA sponsorships:
Total NBA Sponsorships

Active Sponsors by Company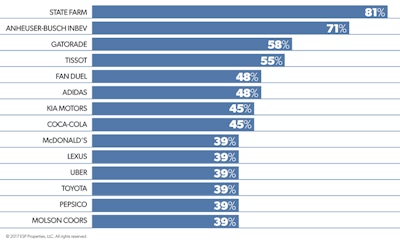 Active Sponsors by Category