On Wednesday of this week, former Washington Redskins defensive lineman A.J. Francis signed on as a defensive tackle with NFC East rival team the Giants, according to nj.com.
Yesterday, Francis celebrated the move on Instagram with a post, saying, "When the team you were on didn't appreciate you but the team you played against actually pays attention to the film..."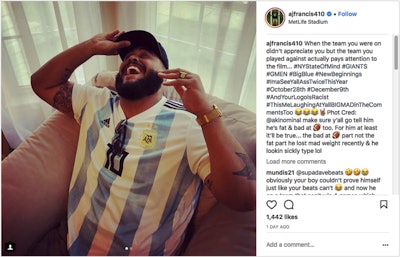 Francis also called out the team's continued use of the Redskins moniker, tagging the post with the hashtag #AndYourLogoIsRacist.
Responding to the player's social statement, the Change the Mascot campaign applauded Francis in a press release May 3rd, thanking him for his courage.
"Mr. Francis joins a respected group of professional athletes, civil rights activists, religious leaders, journalists and policymakers who have spoken out against the continued refusal of the team to treat people of color with respect," the statement read.