"Gamification" is a relatively new term to describe an old concept: incorporating game elements — such as points, rewards, penalties and competition — into non-game contexts. Gamification already exists in many areas of our lives — from the classroom to the workplace — but increasingly, the trend to gamify everything has creeped into our fitness routines.
As another, advanced example of technology's fitness integration, gamified fitness equipment can take many forms. Most vendors offer a wall-based product that requires a user to react and respond to a prompt with their body, but the category is broad enough to include such things as regular console-based video games that require a player to pedal a recumbent bike in order to use the controller.
Gamified fitness can deliver real benefits both to end-users and to a business' bottom-line.

Attracting families
Parker Johnson, sales director at Elk Grove Village, Ill.-based Exergame Fitness says that his company's products primarily target the youth demographic.
"There's not really a lot of programs out there for kids in that age group if they're not in sports. Sports, swim lessons and martial arts — and that's about it," Johnson says. "So when you can offer something that they like — 'it's gaming, it's technology, it's fun, I can do it with my friends' — but then you tie in that fitness aspect of it, then it makes it a really well-rounded program, particularly for that age group."
Exergame offers a variety of gaming concepts, including active wall games, dance and step games, gaming bikes, active floor games, strength and cardio games, and interactive climbing products.
When Exergame works with clubs, the first step is to identify their needs. "What are some of their goals? What are some of the age groups that they're targeting? What current programs are they running, and what programs are they looking to run? Maybe learn more about the space that they have," says Johnson.
Typically, the firm's clients will install Exergame products in either a multipurpose room or a dedicated space. That's the strategy that Moraine Valley Community College's Health Fitness and Recreation Center deployed when it opened in 2014. FitRec, as the facility is known, serves the school's student, faculty and staff populations, as well as members from the general public. The facility found traction with local families right away.
"We noticed in the first year that we were open that we got a lot more family memberships than we anticipated," says Angela Caringella, the assistant director of youth programs and student development at FitRec. "We wanted to make sure that there was enough benefits for a family membership."
Caringella and her team sought to transform FitRec's unused square footage to open up a new space focused on providing value to families with children, and KidRec debuted in 2016, welcoming kids as young as 3 months old and all the way up to age 13.
"The main goal of that space was just to have a drop-off center for kids of all ages, and then have separation for the kids," Caringella says. "Those older kids, they want their own space, they want to stay active, they want to do something a little more advanced than just coloring or board games, so this is kind of a cool space for them to do something unique."
KidRec features two of what Caringella calls X-Rooms that house the facility's Exergame equipment. The spaces provide multiple benefits.
"There are a lot of times when I hear parents say they didn't really want to come to the gym today but their kid was like, 'I want to go to KidRec, I want to go play,' " Caringella says. "So it's kind of like they're pushing each other. The kid wants to go play in KidRec, and the parent has to go work out while they're doing that."
The equipment also serves as a transition for youths who are preparing for their first forays onto FitRec's adult-sized fitness floor. "They're getting in this routine. They're going to go to the X-Rooms and run around and do a workout, and then when they're old enough they can go up on the fitness floor and use the recumbent bikes upstairs, or they can do activities where they're using medicine balls," Caringella says. "They just get accustomed to those things before they go up on the fitness floor.
"The feedback we would get before was always, 'There's nothing for my kid to do. There's no place to take them. What's the benefit of having a family membership?' Now it's, 'This is the reason why I can come here, because I have a space to drop my kids off where I know they're having fun while I'm working out.' "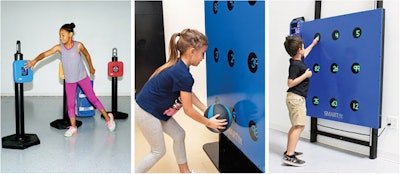 Activating kids
Erin Antrim, CEO of the Boys & Girls Clubs of Greater Oxnard and Port Hueneme in California, was sold on the concept of gamified fitness from the moment she saw the kids she serves interact with a SMARTfit system — another wall-type gamified product that challenges users to respond to prompts by tapping on a particular area.
"I just knew that it would be perfect," Antrim says. "We do a lot of physical fitness here at the Boys & Girls Clubs, but sometimes kids who maybe need it the most, kids who might be a little sedentary, aren't attracted to those types of activities."
Antrim worked with a donor to secure a SMARTfit system for each of the 17 clubs she oversees. "Our kids love the systems," she says. "They ask to use it, they ask to be on it, and the systems are running all hours of operation for us."
Representing a diverse age range — the Boys & Girls Clubs serve kids between the ages of 5 and 18 years old — individuals use the SMARTfit systems in different ways. While the older set uses it primarily as a means of getting in a workout, younger kids participate in games that can help them in school.
"Yesterday, I observed it with a group of brand new Kindergarteners, and they were counting, looking for the numbers," says Antrim. "So it goes from that, all the way up to more advanced, and they love it."
Since introducing SMARTfit systems in the Boys & Girls Clubs — including a location at a juvenile justice center — Antrim says kids who otherwise might shy away from physical activity are now heading to the gymnasium more frequently, which is particularly important to the community.
"Oxnard and Hueneme specifically have a couple of the highest childhood obesity rates in the state of California," Antrim says, adding, "We need to really make sure that the learning and the exercise is fun."

Science-based benefits
Gamified fitness isn't just about technology and toys. There's serious science that explains the benefits for end-users by virtue of using both their brains and bodies at the same time. It's a scientific concept called dual-tasking, which SMARTfit CEO Cathi Lamberti sums up as, "Neurons that fire together, wire together."
"When you simultaneously work the cognitive with the motor system, you will accelerate the rewiring of the brain and the body," she says.
SMARTfit's products are programmed with a variety of games that collect and measure data based on how well the end-user performs at the prescribed task. The programs can be modified to be more or less challenging, depending on the end-user's baseline results. The technology has been used in contexts ranging from rehabilitation and concussion recovery to the fitness training of professional athletes.
With so many different ways to use it, SMARTfit can be found in a wide array of facilities that cater to the youth and older adult demographics, which together comprise what Lamberti calls the two vulnerable populations. "The fitness industry is taking care of mainstream fitness — the millennials. They're doing a great job," Lamberti says. "But the two populations that are left out are the older adults and the youths."
Gamified fitness equipment not only can be an important contributor to physical fitness, but it can also provide additional benefits particular to older generations, specifically by helping to prevent the onset of age-associated cognitive decline.
"We're all going to age, and we're all going to have some kind of cognitive decline," Lamberti says, "but because of massive inactivity and bad food, we're seeing an acceleration of cognitive decline. This is where the fitness industry has a huge opportunity to help people capture themselves in a decline and bring cognition back up to normal."
Exergame also touts its products' ability to stimulate different parts of the brain, regardless of demographics. Says Johnson, "A lot of our products are, see a target, hit a target, follow a light, listen for a tone — all of those things are exceptional for stimulating different parts of the brain. So, whether it's youths, whether it's an adult, whether it's a senior with Alzheimer's or even somebody who's had a traumatic brain injury, there's that cognitive side."

Skeptics of gamified fitness may exist, but to deny the creep of technology into athletics, fitness and recreation facilities of all types is to deny reality. Instead of dismissing such technology, Johnson says the role of the industry is to embrace it and harness it to serve the industry's purpose of helping people live healthier lives.
"If people's love for gaming continues to grow, it's our job and our responsibility to continue to find different products or games or software to integrate with that to just get people more physically active," he says, "because to be perfectly honest — I don't see technology slowing down at any point in the near future."
More than fun and games
The possibilities of gamification technologies are nearly limitless, but facility operators looking to incorporate this kind of equipment should first assess their goals.
"I always say that the equipment is a means to get people active and how you use the equipment is what's going to make it a long-term success," says Parker Johnson of Exergame.
To that end, facility managers can deploy gamified fitness solutions in each of the following areas:
Personal training: "We've had trainers bring their clients [to the X-Rooms] because it's a new, fun, exciting environment, so they can kind of mix-up their workout," says FitRec's Angela Caringella.
Group exercise: Gamified fitness equipment can provide a group exercise option for small or large groups. Users can rotate between stations, or systems can be combined to put large numbers of exercisers through a gamified workout.
Sports performance: Athletes — including some professionals — use gamification to help them improve their snap judgment and keep their performance sharp under pressure.
---
This article originally appeared in the October 2019 issue of Athletic Business with the title "Gamified fitness benefits members, facilities." Athletic Business is a free magazine for professionals in the athletic, fitness and recreation industry. Click here to subscribe.